Knowledge?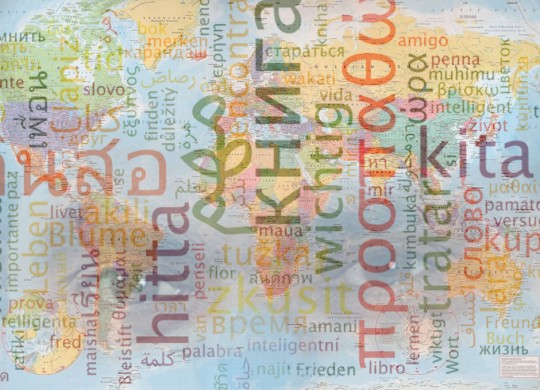 The world is coming to an end. Soon.
How else can you explain the fact that some folks have spent decades studying a single word? And especially if that word is "Huh?"
I know, that's what you're asking: "Huh?" But it's true.
Mark Dingemanse, Francisco Torreira and Nick Enfield, at the Max Planck Institute for Psycholinguistics in Nijmegen, the Netherlands, recently published the fruit of their arduous work: "Is 'Huh?' a Universal Word? Conversational Infrastructure and the Convergent Evolution of Linguistic Items," in PLoS (Public Library of Science) ONE.
Whether things are coming to an end, and Jesus is on his way or not, the study is rather fascinating.
There are roughly 7,000 spoken languages in the world today. And our heroes, these linguists, discovered that there is one thing every language has in common. One word. In fact, one syllable. "Huh?"
Yup. The interjection generally used to express a lack of understanding is a universal feature of human language.
The "Huh?"-hunters sampled 31 languages belonging a diversity of language families and found that all of them have a word with a near-identical sound and function as English Huh?"
That's quite unusual because the sign—e.g., "d-o-g"—is not at all connected with the referent—the canine. English calls this animal "dog," Japanese labels it "inu," French, "chien," and so on. But for the interjection used to express incomprehension—"Huh?"—apparently form and function are identical in most languages. There are, of course, variations, just as between "dahg," "dawg," "dog," …. What's interesting is that the variations of "Huh?" (just as the phonic variants of "d-o-g") prove that "Huh?" is a word that needs to be learnt: only children 5 and older employ it. In other words, it is not a primeval grunt or some unlearned vocalization. It is a word, and it is universal.
The Max Planck group's explanation for this universality of "Huh?" "Convergent evolution."
Convergent evolution is a phenomenon well-known from evolutionary biology. When different species live in similar conditions, they can independently evolve similar traits."
Divergent languages independently came up with "Huh?"—a convergence. Every human language has, it seems, stumbled upon "Huh?"
Hmmm. [I wonder if that is word.]
In any case, one thing is clear: Humans everywhere are plagued by ignorance, necessitating "Huh?" We don't know it all. Nobody. Anywhere. Does.
So we all need to use "Huh?" often.
When Job dared to question the wisdom of God regarding his misfortunes, God was rightly indignant. He proceed for four chapters, challenging Job to teach him, God, knowledge.
"I will ask you, and you make Me know!"
Job 38:3; 40:7; 42:4
"Where were you when I laid the foundation of the earth?
Tell Me, if you have knowledge."
Job 38:4
"Have you understood the expanse of the earth?
Tell Me, if you know all this."
Job 38:18
"Do you know the ordinances of the heavens,
Or fix their rule over the earth?"
Job 38:33
"Do you know the time the mountain goats give birth?
Do you observe the calving of the deer?
Can you count the months they fulfill,
Or do you know the time they give birth?"
Job 39:1–2
"Huh?" to all of the above!
Only the all-wise God knows.
Oh, the depth of the riches both of the wisdom and knowledge of God!
How unsearchable are His judgments and unfathomable His ways!
Romans 11:33
But here's good news:
But if any of you lacks wisdom, let him ask of God,
who gives to all generously and without reproach,
and it will be given to him.
James 1:5
Just ask, "Huh?"