Land!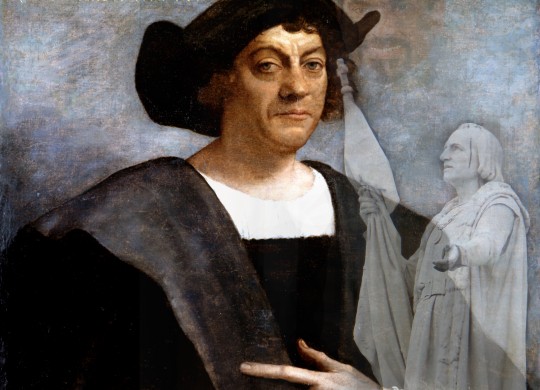 Wrote Ogden Nash (1902–1971), the American poet, thus,
In a poem that he titled "Columbus":
Once upon a time there was an Italian,
And some people thought he was a rapscallion,
But he wasn't offended,
Because other people thought he was splendid,
And he said the world was round,
And everybody made an uncomplimentary sound.
…
So Columbus said, Somebody show me the sunset and somebody did and he set sail for it,
And he discovered America and they put him in jail for it,
And the fetters gave him welts,
And they named America after somebody else.
Yup, he, Cristóbal Colón, aka Christopher Columbus (1450–1506), set sail for the sunset, but his statue in Madrid, in the Plaza de Colón, for some reason, faces east. Maybe because the sea is closer to Madrid in that direction.
In an earlier day, it was thought that Mr. C was the first one to proclaim the roundness of the earth, thus explaining his plan to reach the Indies by sailing westward. He wasn't. Even the Christian monk, Bede the Venerable, seems to have held such ideas as early as 723 CE, in his Reckoning of Time. But did make some mistakes. He thought Japan was about 2,500 miles away westwards, when in reality it was more like 12,000. Anyhow, these errors enabled him to set out bravely towards the setting sun and hit another unknown continent.
And Señor Colon he wasn't the first European to reach the Americas either. The Norwegian Leif Ericson probably was the first, hitting Newfoundland in the 1000s, some 500 years before CC. Nevertheless, it was Columbus' trips that led to lasting contact between Europe and America and fostered several centuries of exploration and colonization that have had a lasting impact to this day.
So, in his case, I suppose it paid off to be heading the wrong way, not normally an advisable option.
There was another guy way before Chr. Col. who set out not know where to go.
By faith Abraham, when he was called,
obeyed by going out to a place
which he was to receive for an inheritance;
and he went out, not knowing where he was going.
Hebrews 11:8
But he was following a divine call. And he chose to trust in the divine word.
Now the LORD said to Abram,
"Go forth from your country, And from your relatives,
And from your father's house, To the land which I will show you."
Genesis 12:1
God promises him all kinds of things. But the funny thing is Abraham is not recorded as having uttered a word in reply. We are simply told:
So Abram went forth as the LORD had spoken to him.
Genesis 12:4
No spring chicken at 75 years, the man goes forth, family and all. Faith!
By faith he lived as an alien in the land of promise,
as in a foreign land, dwelling in tents with Isaac and Jacob,
fellow heirs of the same promise;
for he was looking for the city which has foundations,
whose architect and builder is God.
Hebrews 11:9–10
Heading for the Promised Land. For the Holy City of God.
And I saw the holy city, new Jerusalem,
coming down out of heaven from God ….
"Behold, the tabernacle of God is among men, and He will dwell among them,
and they shall be His people, and God Himself will be among them,
and He will wipe away every tear from their eyes;
and there will no longer be any death;
there will no longer be any mourning,
or crying, or pain."
Revelation 21:2–4
Soon and very soon. Hang in there!