Legacy?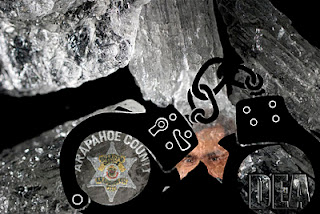 Everybody wants to leave a legacy. Especially public servants.
One-time sheriff of Arapahoe, CO, Patrick J. Sullivan, Jr., is no exception to that desire.
Nationally renowned law-enforcement legend who served as sheriff of aforementioned county from 1984 to 2002. Served six terms. Named "Sheriff of the Year" in 1991 by the National Sheriff Association. In 1995, President Bill Clinton named Sullivan as a member of the National Commission on Crime Prevention and Control. In a 1995 White House press release, the sheriff is said to have been a consultant to the U.S. House Subcommittee on Crime. Served on two advisory councils affiliated with the Department of Justice. The 68-year-old bloke was known as "Hollywood Pat." Apparently, once, in 1989, the guy sped his jeep into the line of a fire to rescue a wounded deputy, and then roared back through a fence in a bold escape captured live on TV! Even as recently as 2008, he was an active participant in state and local  methamphetamine policy-making task forces that provided recommendations to the Colorado state legislature on how best to deal with the surge in meth-related crime.
What a legacy!
Now retired for nine years, Sullivan was serving as director of safety and security for Cherry Creek School District, in Colorado.
Until a couple of months ago.
In a sting operation the erstwhile lawman was arrested on suspicion of trafficking methamphetamines—yup, the same drug he fought so vigorously against—in exchange for sex. He was arrested by the South Metro Drug Task Force and faces felony charges. He is held on a $500,000 bond.
Former Arapahoe County District Attorney Jim Peters, who worked with Sullivan, told the Denver Post that he allegations against Sullivan were "totally out of character." "He was completely ethical, upright and honest," Peters said. "He just oozed honesty and integrity. He was an outstanding sheriff."
"Was." Gone is the legacy.
"I was saddened by the allegations and very disappointed," said Grayson Robinson, the current Arapahoe County sheriff. He confessed this was "the most shocking thing I've ever been involved with."
Oh, but wait. Pat Sullivan did leave a legacy. For himself.
In an incredible twist of fate, Mr. Sullivan is now cooling his heels at—guess where?—The Patrick J. Sullivan Jr. Detention Facility, once named in his honor!
All that good work, now undone! All that exemplary service, in tatters.
And it's easy for us to ruin our legacies too.
Therefore, prepare your minds for action,
keep sober in spirit,
fix your hope completely on the grace
to be brought to you
at the revelation of Jesus Christ.
As obedient children,
do not be conformed to the former lusts
which were yours in your ignorance,
but like the Holy One who called you,
be holy yourselves also in all your behavior;
because it is written,
"You shall be holy, for I am holy."
1 Peter 1:13–16
Let's live soberly and fearfully. For the consequences may be severe.
If you address as Father the One
who impartially judges
according to each one's work,
conduct yourselves in fear
during the time of your stay on earth;
1 Peter 1:17
No, not eternal consequences, for we …
… were not redeemed
with perishable things
like silver or gold …,
but with precious blood,
as of a lamb unblemished and spotless,
the blood of Christ.
1 Peter 1:18–19
But still consequences for ourselves, our families, our churches, our society.
Be sober. And leave a legacy.
(There is no word yet from the City Commissioner whether there are plans to rename the jail.)