Leptodermis?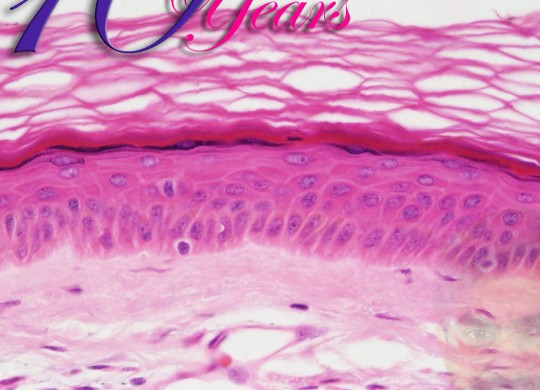 Leptos = thin
Dermis = skin
Scientists at the Department of Biophotonics and Laser Technology at Saarland University, in Germany, used high-resolution skin imaging tomography to study the skins of astronauts before and after their space journeys. The technology uses lasers: apparently the resolution is a thousand times better than that produced by any other device.
Said Professor Karsten Koenig of Saarland:
So now you get the information without taking biopsies; normally you slice them, you stain them, and then a pathologist would look through these sections. Now you can get this information in seconds, labor free and with this fantastic resolution. It also has the potential, to revolutionize diagnoses in hospitals."
Prof. Koenig is also CEO of the German company JenLab that was asked by NASA and the European Space Agency (ESA) to examine the skin of astronauts after a period of living in the weightlessness of space.
Trips to Mars are being planned for the 2030s. But at 40+ million miles away from earth, the trip may well take over a year back and forth and the health of astronauts is a major concern during these expeditions.
Skin aging mechanisms … are slow on Earth (therefore nearly impossible to study efficiently) but very much accelerated in weightlessness. NASA and ESA came to us and asked, 'Is it possible to also look in the skin of astronauts? Because we want to know if there's any aging process going on or what kind of modifications happened to astronauts as they work for six months out in space.'"
So Koenig and his team got to work.
The Italian astronaut, Samantha Cristoforetti, of the ESA, was scanned prior to her trip to the International Space Station (ISS) in November 2014. When she returned to terra firma in June 2015, her 199-day mission made her the record-holder for the longest spaceflight by a woman, overtaking the 195-day trip by NASA's Sunita Willams in 2006–2007.
Upon scanning Cristoforetti's skin, some surprising results were obtained.
Announced Koenig:
So far we've got interesting results ….. It seems that there is a strong production of collagen; so suddenly these astronauts have more collagen. It means there is some sort of anti-ageing effect, at least in the dermis—the lower part of the skin. And we found that the epidermis, in particular the part of the living cells, that this epidermis is shrinking, so the skin gets thinner. So far we have no explanation yet, and we are waiting for the other astronauts to figure out what's going on and maybe to try to figure out how we can protect, how we can help so that this epidermis is not shrinking. We've seen the epidermis get thinner by nearly 20 percent. And so far we have no explanation. But this happened within six months; the question is if you go to Mars they need one or two years and we don't know yet— for sure it's not so good if the epidermis gets thinner and thinner."
Thin skin (leptodermis) is certainly not a good thing. Instead, the Bible exhorts us, …
So, as those who have been chosen of God, holy and beloved,
put on a heart of compassion, kindness, humility, gentleness and patience;
bearing with one another, and forgiving each other,
whoever has a complaint against anyone;
just as the Lord forgave you, so also should you.
Beyond all these things put on love, which is the perfect bond of unity.
Let the peace of Christ rule in your hearts,
to which indeed you were called in one body.
Colossians 3:12–15