Life!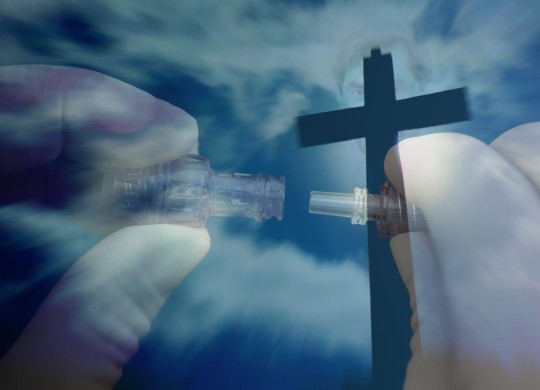 Nils. H., 38, is a nurse in Germany (name withheld under that nation's privacy laws). Hopefully, the verb will be in the past tense: He was a nurse.
The man was arrested the other day and is facing charges in three murders and two attempted murders. He expressed regret for killing 30! And the state prosecutor suspects he could be involved in the deaths of more than 150! All of them his patients! He killed his patients.
He confessed to an Oldenburg regional court that he injected Gilurytmal, an antiarrhythmic agent that can cause dangerously low blood pressure and the heart to stop when incorrectly administered. He did so because he enjoyed the feeling of being able to resuscitate them!
Prosecutors allege that Nils. H. was bored and that he wanted to practice his "excellent" resuscitation skills. So he went on this mad spree. Apparently, if the first attempt at resuscitation succeeded, the crazed guy would try again with the drug.
They are investigating the deaths of 174 patients who died during the fellow's shifts from 2003 to 2005 at a clinic near Bremen.
This, it seems, was his second trial. In 2008 he was sentenced to around 8 years for the attempted murder of a patient who, thankfully, narrowly escaped death.
A senior physician who testified in his trial said:
H was a passionate medic who made a good impression on the clinic staff. But I found it strange that he was always on hand when patients were being resuscitated, often helping younger doctors with intubation—inserting a breathing tube into a patient's airways."
He was jailed for life, with no possibility of parole … for 15 years.
A special commission of police and prosecutors dubbed "Kardio" (Cardio) is now looking into all suspicious deaths in places where the creep once worked, including another clinic, a nursing home, and an emergency medical service. Exhumations of dozens of bodies are planned.
One who was to help people live, instead chooses to kill!
In fact, there is supernatural battle being waged between good and evil, between the one who gives life and the one who seeks to kill. They are not the same person!
Here's God, on the one hand:
"You alone are the LORD. You have made the heavens,
The heaven of heavens with all their host, The earth and all that is on it,
The seas and all that is in them.
You give life to all of them And the heavenly host bows down before You."
Nehemiah 9:6
And here's Satan, on the other:
"[The devil] was a murderer from the beginning, and … there is no truth in him."
John 8:44
And for a while, this latter nefarious character appears to have won, having trapped humanity in sin, rendering them worthy of punishment, away from the presence of God.
For the wages of sin is death …
Romans 6:23
But …
… the free gift of God is eternal life in Christ Jesus our Lord.
Romans 6:23
Here's the gift, the Life-Giver, given to the world.
"For God so loved the world, that He gave His only begotten Son,
that whoever believes in Him shall not perish, but have eternal life."
John 3:16
And so for all who believe in Jesus death and resurrection for the sins of mankind, eternal life is assured.
"I am the resurrection and the life;
he who believes in Me will live even if he dies."
John 11:25
For he alone is way to life.
"I am the way, and the truth, and the life."
John 14:6
The Giver of life!