Lost?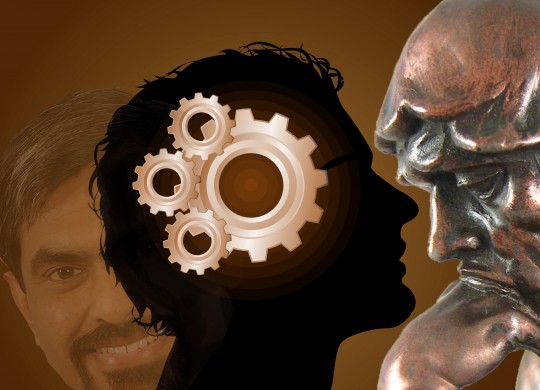 "All that is gold does not glitter,
Not all those who wander are lost."
So wrote Tolkien in The Fellowship of the Rings.
We've often thought that those who wander in their minds are definitely lost. Those absent-minded types that walk into lampposts or fall into potholes. Those eccentric folks who forget who they are and what they are doing. Those oddballs who aren't where everyone else is, and are seemingly headed in the wrong direction. Lost.
A few years ago, researchers from Harvard, after conducting a study with an iPhone app (!), wrote: "A human mind is a wandering mind, and a wandering mind is an unhappy mind."
Meandering, they declare, is maladaptation.
Well, our diagnoses may not be that accurate.
A more recent study jointly authored by researchers in Germany and Colorado conclude otherwise ("Not All Minds That Wander Are Lost: The Importance of a Balanced Perspective on the Mind-Wandering State"). Yes, wandering in the mind can be problematic if you are wandering in dark, gloomy, and depressive terrains of thought. But that need not be the case always. It all depends on where you are wandering (and what you are doing when you are wandering—hopefully not performing surgery, or doing your taxes, or some such critical and complex activity).
At least in three areas, such "lost" mind activities—which they call "self-generated thought"—are helpful: mental time travel (reminiscing and anticipating) gives us wisdom and a sense of self; it helps us make sound plans for surviving the future; and these incubatory peregrinations of thought that happen, say, when you are in the shower, can be sources of creativity.
It is especially valuable, the Bible says, to wander your mind in the direction of heaven.
Therefore if you have been raised up with Christ,
keep seeking the things above,
where Christ is, seated at the right hand of God.
Set your mind on the things above,
not on the things that are on earth.
For you have died and your life is hidden with Christ in God.
Colossians 3:1–3
And about the things of God.
Finally, brethren, whatever is true,
whatever is honorable, whatever is right,
whatever is pure, whatever is lovely, whatever is of good repute,
if there is any excellence and if anything worthy of praise,
dwell on these things.
Philippians 4:8
And along the paths of righteousness.
How blessed is the man
who does not walk in the counsel of the wicked,
Nor stand in the path of sinners, Nor sit in the seat of scoffers!
But his delight is in the law of the LORD,
And in His law he meditates day and night.
He will be like a tree firmly planted by streams of water,
Which yields its fruit in its season
And its leaf does not wither;
And in whatever he does, he prospers.
Psalm 1:1–3
Of Thales, a so-called absent-minded philosopher, Socrates said, "He was so eager to know what was going on in heaven, that he could not see what lay before his feet."
That, of course, was said to poke fun at Thales. But ye olde philosopher had the right idea. Some things are more important than others; some things are more beautiful than others; some things are worth staring at more than others; some things are worth mind-wandering about.
One thing I have asked from the LORD, that I shall seek:
That I may dwell in the house of the LORD all the days of my life,
To behold the beauty of the LORD
And to meditate in His temple.
Psalm 27:4
By all means, wander!