Marathon!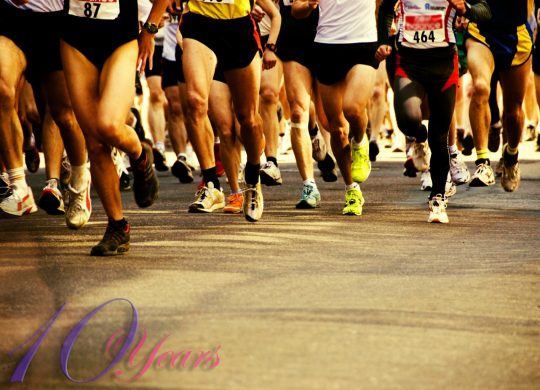 The other week LeeAdianez Rodríguez decided to run 3.1 miles. But she made a mistake. She ran 13!
Rodríguez, called Lee or Adi by friends and family, intended to run the Wegmans Family 5K that day. But the 12-year-old lass from Irondequoit, NY, outside of Rochester, was already late and so she scrambled to get to the starting point on Broad Street Bridge in Rochester. Mom Brendalee dropped Lee off and went to park.
There were already thousands of runners assembled at the bridge, and so when they started running, she did, too.
This however was not the Wegmans Family 5K, but the Rochester Regional Health Flower City Half-Marathon Challenge. Our sixth grader's race was set to begin 15 minutes after the half-marathon runners set off. But she had no clue.
So she just ran and ran and ran for 13 miles!
This would have been Ms. Rodríguez's second 5K race. But it wasn't to be. It became her first-ever half-marathon.
Life! Often we think it's a sprint, but it turns out to be a marathon! The Apostle Paul says, at the end of his life:
I have fought the good fight, I have finished the race, I have kept the faith.
2 Timothy 4:7
Brendalee was given a major fright for over an hour when her daughter failed to return after what should have been a 5K race.
She gave me a really big scare."
The good lady hunted frantically for her daughter for two hours in and around the finish line adjacent to the Blue Cross Arena at the Community War Memorial, where post-race festivities were being held. She went to race officials and then to the Rochester police. She was shocked to learn that no one named LeeAdianez Rodríguez ever started the 5K race.
And Lee, merrily marathoning, was wondering why her race wasn't ending. It was only at the 6-mile mark that the enterprising girl realized her mistake. By then she had logged more miles than she had ever run. She decided to keep on, not aware of the search and rescue missions initiated on her behalf by mother and police.
Somewhere during her last couple of miles, police spotted Lee running, and kept up with her till she finished.
Said Brendalee with relief:
She just wanted to finish the race. Two hours after I started looking for her, I see that one of the officers found her. And I see she has a medal. I'm so proud of her."
After her accidental half-marathon, Lee took a nap, had a large meal, and then went on a hike.
Oh, and her time? She ran 13.1 miles 2:43:31, placing 1,885th out of 2,111 finishers.
And after this life's race, too, there are rewards.
Said Paul:
In the future there is laid up for me the crown of righteousness,
which the Lord, the righteous Judge, will award to me on that day;
and not only to me, but also to all who have loved His appearing.
2 Timothy 4:8
Lee plans to run another 5K race in May.
Declared Brendalee:
But this one? We'll run it together at the same pace. Even if she wants to run ahead, she's staying with me."
Nope, we don't run the race of life alone, either:
Therefore, since we have so great a cloud of witnesses surrounding us,
let us also lay aside every encumbrance and the sin which so easily entangles us,
and let us run with endurance the race that is set before us,
fixing our eyes on Jesus, the author and perfecter of faith.
Hebrews 12:1–2