Marathon!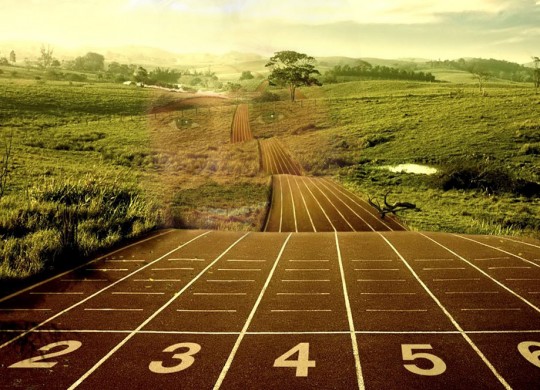 Janette Murray-Wakelin and Alan Murray. 64 and 68 years old, respectively. Amazing! They ran a marathon, every day, for an entire year. A marathon, EVERY day. 366 consecutive marathons without taking even a day off.
That's almost 10,000 miles, running around the mainland of Australia and the island of Tasmania!
Every day of the past year, the couple rose at 4:00 am and set off. After 365 of these, they decided to celebrate … with another marathon to their home in Melbourne.
A world record! They broke the 365-marathons-in-a-year feat undertaken by Belgian, Stefaan Engels, in 2011.
Ms. Murray-Wakelin said she was looking forward to a day off—to sleep a little extra, do some gardening, play with the grandkids—but she planned to run the next day, she declared. "You don't stop doing something that works." Nope, she said, she wasn't exhausted, and she could "run forever."
Along their journey, they sidestepped a cyclone, a few floods, a bushfire, and even a hail storm in Perth, during which they took a 30-minute break to drink a vegetable smoothie, before continuing on.
Their day began at 4:00 am as each one ate 10 bananas, a grapefruit, and a date smoothie for breakfast. Another 10 bananas at 8:00 am, a green smoothie at 9:00 am. At the 19-mile mark, they consumed a fruit salad; 3 oranges at the 23-mile mark; and they concluded the day at 4:00 pm finishing off with an avocado, vegetable juice, and a salad for dinner. The two of them, BTW, are raw vegans.
Mr. Murray confessed that "The first few weeks we were sore, breaking ourselves in. After that it's actually become easier every day. I really don't think we've had any days when we didn't think we could make it. But we had a few longer days through extremes of heat. We had some 44-degree [111°F] days going up into Canberra."
Assisted by volunteers helping with supplies and a support van, the runners were raising money for charity. A good goal … I suppose.
But there is a bigger journey to undertake in life. The journey of following Jesus. Christian life is frequently depicted as a journey—a life-long marathon, every day, every year, till we die. In fact, one of the Gospels, Mark's, is structured as a journey that begins in Galilee and ends in Jerusalem, telling us what it means to follow Jesus.
And He summoned the crowd with His disciples, and said to them,
"If anyone wishes to come after Me, he must deny himself,
and take up his cross and follow Me."
Mark 8:34
The picture of the Christian life as a pilgrimage is widely utilized in the Bible. In the book of Acts, Christians are said to belong to "The Way."
… according to the Way …
I do serve the God of our fathers.
Acts 24:14
Of course, Jesus called himself the way.
"I am the way, and the truth, and the life;
no one comes to the Father but through Me."
John 14:6
And "walking" is virtually a synonym for conduct of life.
… walk in a manner worthy of the God
who calls you into His own kingdom and glory.
1 Thessalonians 2:12
And one remembers, in the Old Testament, the call and journey of Abraham, the Exodus, the exile and return of the Israelites. Life-long marathons!
Let us also lay aside every encumbrance
and the sin which so easily entangles us,
and let us run with endurance the race that is set before us,
fixing our eyes on Jesus ….
Hebrews 12:1–2
Keep running! Daily!