Mark 7:1–30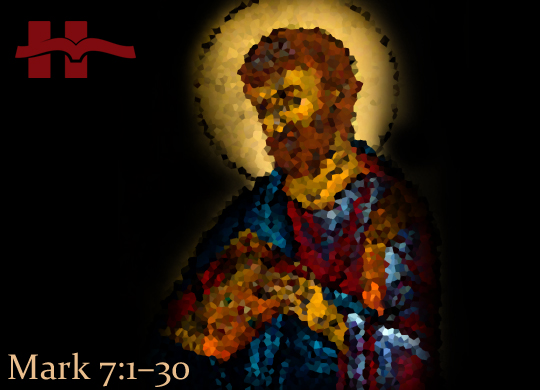 Faith that produces obedience, not hypocritical allegiance to manmade rules, renders the disciple morally acceptable to God.
"The things which come out of one are the things that defile one."
Mark 7:15
This pericope primarily deals with an issue of the "heart" (7:6, 19, 21): both purity and impurity begin "inside" (7:21, 23), not "outside" (7:15, 18). Jesus' concern here is with moral purity—obedience to God's commands. On the other hand, the Pharisees' burden is adherence to manmade laws, while sinning against God "from the heart," "from inside" (7:21–23)—an artificial piety.
Three sets of antitheses expressed by Jesus bring the argument to the fore: "neglecting the commandment of God" vs. "holding the traditions of men" (7:8); "rejecting the commandment of God" vs. "establishing your tradition" (7:9); and "annulling the word of God" vs. "passing down your tradition" (7:13)—an escalating degree of abandonment of God's word by the Pharisaical tradition.
Jesus provides an illustration in 7:10–11 of the contrast between "Moses said" (God's word) and "you say" (man's word). A son's resources, from which parents could reasonably expect support was, apparently with Pharisaic approval, being declared "Corban"—offering to God as divine property—thus making it no longer accessible for such a philanthropic purpose. Thus, for selfish gain, the son calculatedly (and callously) evaded his Mosaic Law-mandated responsibility to honor his parents (Exod 20:12), while adhering to a manmade regulation.
All of this became a form of hypocrisy (7:6–7): ritualism (i.e., following human rules) without righteousness (i.e., following divine commandments). Llikewise, moral impurity is not an issue of what contaminates from the outside, but rather what defiles from the inside—the sinful thoughts and deeds of a person (7:21–22).
The next episode of the healing of the Gentile woman's daughter who had an unclean spirit is perfectly positioned to affirm the criteria of moral purity and acceptability before God. In more than one way, this woman was an unlikely candidate for such acceptability: she was a woman, a Gentile, and mother of one with a spirit explicitly labeled "unclean."
The challenge to this woman from Jesus (7:27) appears to have been a test, which this woman passes with flying colors. Her first directly quoted word is "Lord" (7:28). Striking—this is the only time a human addresses Jesus as "Lord" in the entire Gospel of Mark. And she proceeds to demonstrate her faith by trusting Jesus to provide at least "crumbs" for her family.
Jesus commendation of the woman's faith is significant: "Because of this word …" (7:29). One would expect Jesus to have said here, to the woman, "Because of your faith …." But essentially, that is what he says to the woman, for what proceeds from the heart of this Gentile woman is the word of faith. This after the Pharisees had just been excoriated for their annulment of "the word of God," 7:13! But here a woman produces an acceptable "word." Not only did she demonstrate faith, she also demonstrated obedience to Jesus' command to go: this is one of those few times that Jesus' healing occurs without a witness. And yet, without any confirmation of the healing of her daughter having taken place, the woman returns home, with faith, in obedience to Jesus' command (7:29).
She had faith; she obeyed. And hers, therefore, was a good "word" that demonstrated what was "inside," despite her ritual unacceptability "outside." She, who responded to Jesus with faith and obedience, was acceptable before God—not based upon any quality or criterion externally applied. This woman was a model disciple!