Memorial!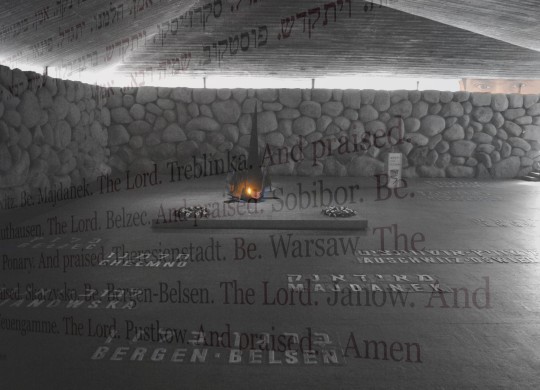 To them I will give in My house and within My walls a memorial,
And a name better than that of sons and daughters;
I will give them an everlasting name which will not be cut off.
Isaiah 56:5
In the Hebrew, "a memorial and a name" reads yad vashem, literally "a hand and a name." It indicates a divine intention to establish a means of remembrance for those eunuchs who would, otherwise, have no one to carry their names after their deaths. But the Lord would remember them!
In Jerusalem, a few months ago, I had the grim privilege of visiting the Yad Vashem, the official "memorial and name" of the nation of Israel dedicated to the victims of the Holocaust.
Yad Vashem seeks to preserve the memory and names of the six million Jews murdered during the Holocaust and the numerous Jewish communities destroyed during that time. It holds ceremonies of remembrance and commemoration; supports Holocaust research projects; develops and coordinates symposia, workshops and international conferences; and publishes research, memoirs, documents, albums and diaries related to the Holocaust."
Among its goals is also the recognition of gentiles who saved Jews from sure genocide—they are recognised as the "Righteous among the Nations."
It was, indeed, a grim visit—I noticed several visitors weeping. Free, it is the second-most visited tourist site in Jerusalem after the Western Wall.
The Hall of Remembrance is one of the memorial's most imposing structures, inside which is a mosaic floor inscribed with the names of 22 of the most infamous concentration camps. On the floor is also the Eternal Flame, lighting up from a base that looks like a broken bronze goblet, and its smoke leaving the conical building at its apex. In front of the flame is crypt with ashes of Holocaust victims. And there is even a Children's Memorial to the 1.5 million children lost in that horrible act of man.
Grim, indeed!
One of the memorial's most powerful exhibits is a stark passage from André Schwarz-Bart's post-WWII novel, The Last of the Just (originally in French: Le Dernier des justes). It weaves the words of the Mourners' Kaddish (the Jewish prayer for the dead), with the names of European concentration camps.
And praised. Auschwitz. Be. Majdanek. The Lord. Treblinka.
And praised. Buchenwald. Be. Mauthausen. The Lord. Belzec.
And praised. Sobibor. Be. Chelmno. The Lord. Ponary.
And praised. Theresienstadt. Be. Warsaw. The Lord. Vilna.
And praised. Skarzysko. Be. Bergen-Belsen. The Lord.
Amen.
Grim!
The interweaving words are truly remarkable. How can one praise God in the face of such horrible evil?
We are afflicted in every way, but not crushed; perplexed, but not despairing;
persecuted, but not forsaken; struck down, but not destroyed;
always carrying about in the body the dying of Jesus,
so that the life of Jesus also may be manifested in our body.
2 Corinthians 4:8–10
And He has said to me, "My grace is sufficient for you, for power is perfected in weakness." … Therefore I am well content with weaknesses, with insults,
with distresses, with persecutions, with difficulties, for Christ's sake;
for when I am weak, then I am strong.
2 Corinthians 12:9–10
Who will separate us from the love of Christ?
Will tribulation, or distress, or persecution, or famine, or nakedness, or peril, or sword?
For I am convinced that neither death, nor life, nor angels, nor principalities,
nor things present, nor things to come, nor powers, nor height, nor depth,
nor any other created thing, will be able to separate us from the love of God,
which is in Christ Jesus our Lord.
Romans 8:35, 38–39