Memorial!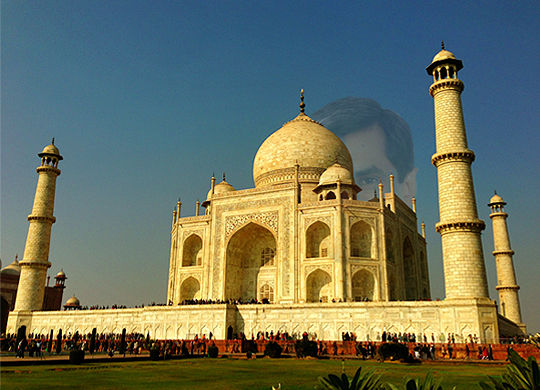 Besides the teaching and preaching and connecting with friends, the highlight of my recent trip to India has got to be the Taj Mahal. While I had seen it from afar in the past, this was the first time I got to go inside the complex that includes not only the white-domed masterpiece but a number of other structures and gardens.
Truly an incredible sight!
No matter where in Agra you are, you can see it on the banks of the R. Yamuna, and no matter what angle you view it from, or from what distance, or at what time, it is absolutely stunning! No wonder it gets more than 2 million visitors a year.
Since 1983 a UNESCO World Heritage Site, the Taj was begun in 1632 and completed in 1653. It is no doubt the finest example of Mughal architecture, combining Islamic, Persian, Turkish, and Indian styles. Mostly made of white marble, it is resplendent in sunlight (and in moonlight, I'm told). The calligraphy of lines from the Qur'an, a work of dazzling virtuosity, are in jasper or black marble, inlaid in white marble panels. And then there is the pietra dura, inlays of yellow marble, jasper, and jade to create geometric designs of vines, and flowers, and fruits, all polished flush with the walls. Spectacular!
All of this set around a 1000-feet square charbagh, or Mughal garden, divided into four quarters, with a marble water tank in the center of the garden, supposedly reflecting the four rivers of Paradise (which, by the way, is a word itself derived from the Persian paridaeza = walled garden). While early accounts indicate a profusion of roses, daffodils, and fruit trees in the garden, with the British Empire ruling India, the landscaping evolved to resemble lawns in London!
The Emperor Shah Jahan commissioned the building of the structure after his third wife, Mumtaz Mahal, died giving birth to their fourteenth child. The Taj is thus a mausoleum, bearing the Empress tomb and, later, her husband's.
Rabindranath Tagore (1861–1941), the first non-European to win the Nobel Prize in literature, called it "a teardrop on the cheek of time." Indeed!
A memorial. Of grief. Of death.
We have one, too.
On a hill far away stood an old rugged cross,
The emblem of suffering and shame;
And I love that old cross where the dearest and best
For a world of lost sinners was slain.
O that old rugged cross, so despised by the world,
Has a wondrous attraction for me;
For the dear Lamb of God left His glory above
To bear it to dark Calvary.
In that old rugged cross, stained with blood so divine,
A wondrous beauty I see,
For 'twas on that old cross Jesus suffered and died,
To pardon and sanctify me.
George Bennard (1913)
Shah Jahan himself declared of the Taj:
Should guilty seek asylum here,
Like one pardoned, he becomes free from sin.
Should a sinner make his way to this mansion,
All his past sins are to be washed away.
And the cross? Truly the source of pardon from sin, life from death, joy from grief. Forever. Because of what Jesus Christ has done.
He Himself bore our sins in His body on the cross,
so that we might die to sin and live to righteousness;
for by His wounds you were healed.
1 Peter 2:24
And so …
… may it never be that I would boast,
except in the cross of our Lord Jesus Christ,
through which the world has been crucified to me,
and I to the world.
Galatians 6:14
Amen!