Mercy!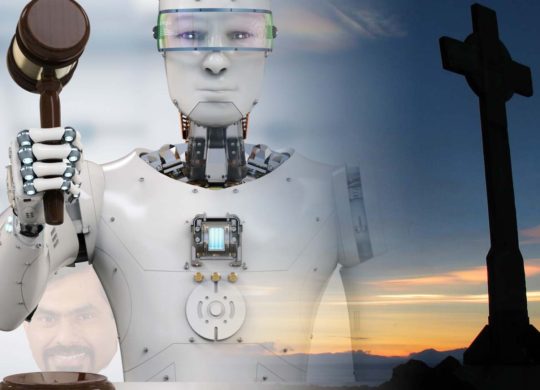 All kinds of things are automated in society, so why not judges and juries, asked a journalist recently in Raconteur.
Technology doesn't hold grudges nor does it lack the information to make a decision. It can help dissect the facts in a more efficient, objective and informed fashion, and save time when determining a judgment or even sentence if the judge's role was to be augmented. In fact, a legal robot could be crammed with a far broader range of facts and figures about the nature of crime, cases on record and the law, making it much more worthwhile than a juror who has little awareness on such matters. Machine-learning could not only make it possible to have a highly knowledgeable juror, but it could also remove all discriminatory factors which may exist in a courtroom."
Yup, flawed people with their biases and judgments and baggage and feelings. Of course, a computerized system may also represent the biases, judgments, baggage, and feelings of its programmers.
Said former U.K. Prime Minister Theresa May at Davos last year:
We need to develop a set of laws governing Artificial Intelligence so we can make the most of AI in a responsible way, such as by ensuring that algorithms don't perpetuate the human biases of their developers."
But at least we have some chance of guessing a human judge's prejudices. What will we do when Alexa and Siri become our judge and jury? Hold Jeff Bezos and Tim Cook responsible?
Lawyer Tom Girardi, one of the real-life inspirations for the movie Erin Brockovich, told Forbes:
It may even be considered legal malpractice not to use AI one day. It would be analogous to a lawyer in the late twentieth century still doing everything by hand when this person could use a computer."
Alexa and Siri might even perform cross-examinations better. In fact, a recent study at the Institute for Creative Technologies showed that people were more honest with an artificially intelligent robot psychologist than with a human one!
And what about mercy?
A few years ago, Judge Robert McGahey pronounced the maximum sentence of 36 years for Sandra Jacobson who, drunk at 10:00 am with three times the legal limit of alcohol in her blood, killed two others in a car crash. She never admitted her guilt, even mouthing to the daughter of one of the victims during the trial: "I didn't do it."
That, said Judge McGahey, "shows a level of gall almost incomprehensible to me."
Jacobson's brother and partner asked McGahey for mercy and forgiveness. The judge refused to hear that plea.
I am not in the mercy business, and I am not in the forgiveness business. I am in the justice business."
Even human judges have trouble with mercy. Forget machine judges.
But the divine Judge? He has already been utterly merciful.
Said God of himself:
"The LORD, the LORD God, compassionate and gracious,
slow to anger, and abounding in lovingkindness and truth;
who keeps lovingkindness for thousands,
who forgives iniquity, transgression and sin."
Exodus 34:6
And he does, for all who believe in Jesus Christ as their only God and Savior.
But God, being rich in mercy, because of His great love with which He loved us,
even when we were dead in our transgressions,
made us alive together with Christ (by grace you have been saved).
Ephesians 2:4
Said the Bard of mercy:
It is an attribute to God himself,
And earthly power doth then show likest God's
When mercy seasons justice.
Shakespeare, The Merchant of Venice
Therefore, as Jesus said, …
"Be merciful, just as your Father is merciful."
Luke 6:36
SOURCES:
Daily Star; Raconteur