Moving!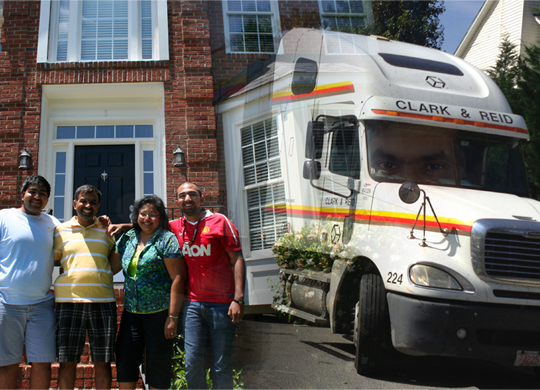 Another moving story (in more ways than one!).
After thirteen or so years, my brother's job is moving him from South Carolina. Finally, they've come to their senses and decided to relocate to Texas.
Moves are tough.
(As a single person who has had to sever his closest ties with each move—and I've made a few myself—I can vouch for that. Moves are tough, indeed.)
Yup, moves are tough. No, you don't lose your friends. No, it's not that you will never ever go back to the place you are moving from. In these days of mobility and connectivity, that kind of permanent loss does not happen.
But things were hard, my sister-in-law tells me, two days ago as their moving truck drove out, and yesterday as they bid goodbye to their home and began the drive to paradise the Lone Star State.
The thing that hits you is change. It hits you hard that things have changed, time has passed, and that nothing can be reversed. There is no going back to re-live the memories of your elementary and middle schoolers, their growing up, their struggles, their victories …. Things have changed. There is no return to the memories of yesteryear, the relationships that once were, the friends once relished, the activities once enjoyed. Things have changed. There is no opportunity to turn back the clock, correct the mistakes, do things that were undone. Things have changed.
And there is no more the security of the known, understood, and loved. Only the future, with its obscurity, strangeness, and uncertainty.
In some sense, as one moves, one has to create a new identity, for the old is partially erased: new friends, new places, new routines, new everything. The loss is hard.
Moves are tough.
All through the Bible, folks have moved. Abraham, Isaac, Jacob, Joseph, and a whole host of others, including the entire nation of Israel—they, more than once. In fact, Christian life itself, is pictured often as a move, a journey, a walk.
… as Christ was raised from the dead …
so we … walk in newness of life.
Romans 6:4
In the early days of Christianity, believers were collectively called people of "The Way." And a whole Gospel, Mark's (shameless plug: read about a brand new commentary here), is structured as a move, the "Trip of Discipleship." It seems like this is God's modus operandi. To get us to uproot. To shake us out of our comfort zones. To make us look elsewhere for our stability.
By faith Abraham, when he was called,
obeyed by going out to a place
which he was to receive for an inheritance;
and he went out, not knowing where he was going.
By faith he lived as an alien in the land of promise,
as in a foreign land, …
for he was looking for the city which has foundations,
whose architect and builder is God.
Hebrews 11:8–10
Yup, there is only One who is stable, unshakeable, unchangeable. The Rock who is our God.
The LORD is my rock and my fortress and my deliverer,
My God, my rock, in whom I take refuge;
My shield and the horn of my salvation, my stronghold.
For who is God, but the LORD?
And who is a rock, except our God,
The LORD lives, and blessed be my rock;
And exalted be the God of my salvation.
Psalm 18:2, 31, 46
Moves are tough. But you know what? It gets us to focus on the One who doesn't move.
And he who has brought us safe thus far will surely lead us Home.