Names!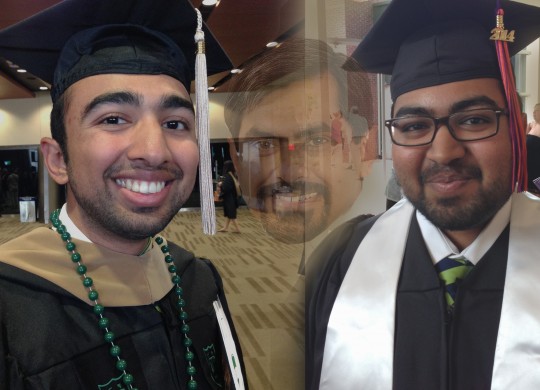 That's it folks. I am getting old. Yup, I am. Finally, it has hit me.
This month, I attended two graduations a week apart. My two nephews: John got his master's degree from Tulane in LA, and Jacob his bachelor's from Clemson in SC.
Unbelievable.
[Not that they graduated. That wasn't a surprise at all. But that I am getting old. Actually with gray hair, presbyopia, kidney stones, and cholesterol meds, my approaching AARP-qualifying status is not entirely unexpected!]
So in New Orleans and in Greenville we celebrated. A joyous occasion. Proud parents, grandparents, uncles. Relieved graduates. Elated family. Well-wishing friends. Graduation. Success. Approbation. Reward.
[During Tulane's handing out of diplomas, with the customary yells and screams, I heard one guy shouting to his favored candidate: "Now get a job!"]
John and Jacob and the rest did it. Success. Fancy diplomas engraved with their names in impressive calligraphy. They will, doubtless, be framed in appropriate style and displayed with justified pride.
But Jesus tells us, there is another location where names are framed—a more important bit of documentation, with value for all eternity!
"Rejoice that your names are recorded in heaven."
Luke 10:20
You see, there is a "Book of Life" in heaven in which are recorded the names of those who have placed their trust in Jesus Christ as their only God and Savior, believing that he died and rose again for our sins, paying their price. For those who have done so, Jesus promised eternal life.
"For God so loved the world, that He gave His only begotten Son,
that whoever believes in Him shall not perish, but have eternal life."
John 3:16
This catalog will come into play in that final Day of Judgment.
And I saw the dead, the great and the small, standing before the throne,
and books were opened; and another book was opened, which is that of life;
and the dead were judged from the things which were written in the books,
according to their deeds.
And if anyone's name was not found written in the book of life,
he was thrown into the lake of fire.
Revelation 20:12, 15
Yup, I certainly don't want my name to be excluded from that divine gazette.
I, for one, am looking forward to graduating into an eternity in the presence of God, in the heavenly city.
And the city has no need of the sun or of the moon to shine on it,
for the glory of God has illumined it, and its lamp is the Lamb.
and nothing unclean, and no one who practices abomination and lying,
shall ever come into it, but only those
whose names are written in the Lamb's book of life.
Revelation 21:23, 27
And at that will be the most important Graduation Ceremony of life, the last one, the final one, the ONLY one of eternal moment and significance. The day when everyone will stand before Jesus Christ, their Savior, for the final accounting of their lives. For believers, this will be an occasion when the Lord will assess their deeds, not for condemnation, but for the granting of rewards—the handing out of honors on graduation day.
Hopefully, on that day, we will be able to say, as Paul did:
I have fought the good fight, I have finished the course, I have kept the faith;
in the future there is laid up for me the crown of righteousness,
which the Lord, the righteous Judge, will award to me on that day.
2 Timothy 4:7–8
Graduation Day is coming!