Pacemaker!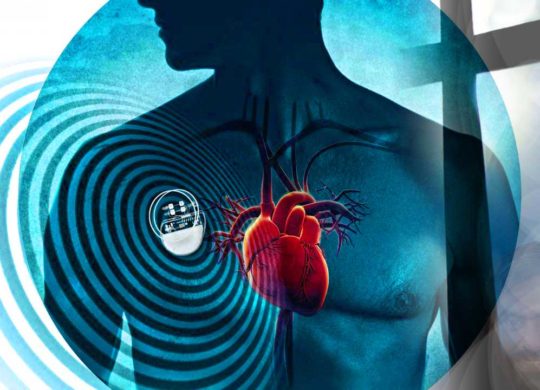 Daniel Mascarenhas, a cardiologist in Easton, Pennsylvania, had a bright idea.
One of my patients had a pacemaker, and she died. I was a little upset. They put in a pacemaker, two days later she was dead, and they buried her with the pacemaker."
Of course, being a cardiologist, he is probably used to sick patients, and dying ones. So that wasn't what upset our good doc. It was what continued to live—that matchbox-sized, 50-gram device in his patient's chest that would keep on ticking, trying to resuscitate a dead heart!
Seeing this kind of thing happen repeatedly, the Indian American physician got his bright idea.
I call up the funeral homes. Every week when I have nothing better to do, instead of golfing, I call and find out if they have devices."
If they do, after obtaining permission from the family, he has the undertaker remove the device. Mascarenhas then sterilizes the thing and, if there is more than five years of battery life left in it (they usually have 10 years of juice when new), he packages it and sends it to India.
The device is expensive. At least $4,000! A defibrillator is about $25,000! More money than most Indians may see in their lifetimes.
Less than 0.003 percent of the population get pacemakers. In India really, there is no safety net. So, if you don't have the money, if you're from the slums, you're dead."
Fearing that the devices may be stolen in the mail, Mascarenhas usually has friends and family hand-carry them to Mumbai, where other physicians pick them up, one of them Mascarenhas' medical school classmate, cardiologist Yash Lokhandwala.
After sterilizing the gadget again, they are implanted in patients.
But apparently there's a catch. Pacemakers are labeled "single use devices" by the FDA, and said agency bans their reuse. But since it isn't clear who owns these things—patient, doctor, manufacturer, or insurer—it's all a murky gray. Laws are bit looser in India, so while technically illegal there, too, enforcement is not as stringent as it is here.
Mascarenhas:
We get consent from the patient that there is a small chance of infection. Not surprisingly, most people opt for the remote possibility of infection over likely death."
And, of course, it's free! So not only are the recipients very grateful, but so are donor families who are thrilled to play a role in helping someone live longer.
On occasion, Mascarenhas has transported pacemakers to India himself—and he's been detained by customs and has had his luggage was impounded. But …
It's always worth it. I could find a diamond worth $5,000, but that wouldn't stimulate me as much as finding a device which has 10 years, because that diamond is not going to give somebody life."
But there's something better than a pacemaker transplant, over even a heart transplant, for that matter:
The payment for the sins of mankind, by the sinless One, Jesus Christ, giving believers eternal life.
But God demonstrates His own love toward us,
in that while we were yet sinners, Christ died for us.
Romans 5:8
The greatest act of love: God's giving us his Son who died for us on the cross and rose gain, to give believers life!
"Greater love has no one than this, that one lay down his life for his friends."
John 15:13
A free gift, for all who believe in Jesus Christ as their only God and Savior.
"For God so loved the world, that He gave His only begotten Son,
that whoever believes in Him shall not perish, but have eternal life."
John 3:16
SOURCES:
Vice News, WHYY