Pacers!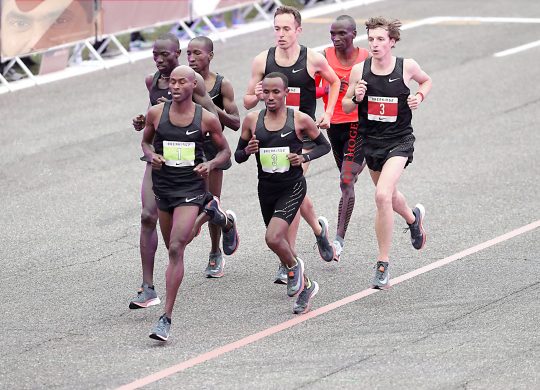 Last week, Kenyan Eliud Kipchoge came 25 seconds close to breaking a record. Running a marathon in less than two hours. Then guy ran 26.2 miles in 2:25:00 beating the record of 2:02:57 set by Dennis Kimetto (another Kenyan), as well as his own best of 2:03:05. Like Roger Bannister's breaking the four-minute mile in 1954 (he did it in 3 minutes 59.4 seconds), this one by Kipchoge raises hopes that one of the sporting world's most formidable (and famous) barriers may soon be broken.
Declared Kipchoge:
We are human. I am happy that I've reduced by 2½ minutes the world record. We are going up the tree … I have lifted a branch and I am going onto the next one. This is not the end of the attempt of runners on two hours."
The 32-year-old athlete has had a long and distinguished career running marathons: he has won all but one of the marathons he has entered in, including the 2016 Olympics, and the London, Chicago, and Berlin marathons.
The event last week was Nike's Breaking2 marathon on the Formula One race track in Monza, Italy.
Said Kipchoge:
I rank this as the highest-ever performance in my life. The aim of Breaking2 was to pass the message that running less than two-hour marathon is possible. That message is really special to me."
But it didn't qualify as a world record as designated by the International Association of Athletics Federations. The run, after three years of planning, was Nike's bold attempt to break the two-hour marathon barrier, showcasing a shoe that designers claim will make runners four percent more efficient.
Kipchoge's effort will not be an official record is because, deliberately, Breaking2 did not follow two standard competition rules. Firstly, racers were handed liquids by others who were in motion—specifically, in this run, by refreshment people on mopeds. Secondly, "pacers" entered and left the race course throughout the run.
It is a well-known fact that in biking and car racing, hiding from the wind by being right behind someone is advantageous for your speed. So also for running, but only if you run 7-minute miles or faster: the air resistance can slow you down. So, Kipchoge, in the artificial conditions set by Nike, always ran behind someone in a pack of six—folks who kept dropping in and out of the race (only Kipchoge ran the whole distance)—the "pacers." They not only gave our man a wind break; you, see, having pacers run alongside a racer gives that one a psychological boost and provides the right pacing to go the whole way. So "pacers." But, of course, that is not legal for a race that intends to get into the record books. Nonetheless, "pacers" are critical for improving efficiency and speed.
Made me wonder: Who are our "pacers" in this race called life? Who helps reduce our wind resistance in this spiritual pilgrimage we are on? And, in turn, whose "pacers" are we?
Bear one another's burdens, and thereby fulfill the law of Christ.
Galatians 6:2
Now we who are strong ought to bear the weaknesses of those without strength.
Romans 15:1
And do not neglect doing good and sharing, for with such sacrifices God is pleased.
Hebrews 13:16
"Give, and it will be given to you. They will pour into your lap a good measure—pressed down, shaken together, and running over."
Luke 6:38
Do not merely look out for your own personal interests, but also for the interests of others.
Philippians 2:4
Contribute to the needs of the saints, practice hospitality.
Romans 12:13
Be a "pacer," and be "paced," yourself!