Parent!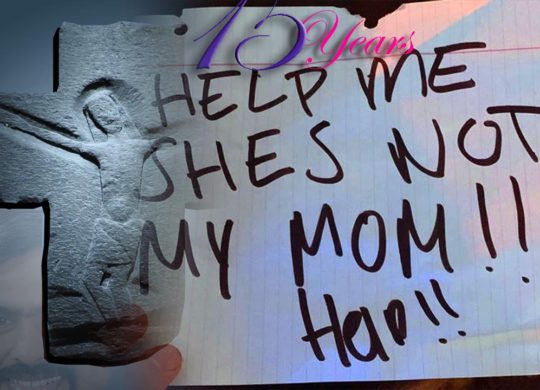 The other day, drivers on Highway 99 south of Elk Grove in Northern California got a shock.
They saw a young girl in a vehicle holding up a handmade sign that read:
Help me, she's not my mom!! Help!!"
The concerned motorists called 911.
California Highway Patrol dispatched officers and a K9 unit that performed a "high-risk stop" on the vehicle near 8 Mile Road in Stockton, a release from CHP stated.
Then they found out that it was all just a hoax, concocted by the girl (age not mentioned):
I just thought it was a fun thing to do."
Needless to say, the girl's mom, who was driving, was not in on the prank.
After confirming the incident was bogus, officers let the mother and daughter go, the CHP reported. They aren't laughing.
Sounds like something straight out of Calvin and Hobbes. After checking, I found out I was right: Our man, Calvin, actually performed this duplicity in one of Bill Watterson's classic strips:
Help! I've been kidnapped! Call the police!"
Poor parents!
But our God, he is no sham parent. He is the real thing, so much so, Jesus tells us:
"Do not call anyone on earth your father; for One is your Father, He who is in heaven."
Matthew 23:9
Exclaimed God:
"Listen to Me, O house of Jacob, And all the remnant of the house of Israel,
You who have been borne by Me from birth And have been carried from the womb."
Isaiah 46:3
"Can a woman forget her nursing child And have no compassion on the son of her womb?
Even these may forget, but I will not forget you."
Isaiah 49:15
And so we respond:
O LORD, You are our Father, We are the clay, and You our potter;
And all of us are the work of Your hand.
Isaiah 64:8
Anyhow, CHP's post on its Facebook page went viral.
Said the CHP:
This is a reminder that parents need to be aware of what their children are doing in the back seat at all times. Six CHP units were assigned to this call instead of responding to legitimate calls or patrolling their beats because of this hoax."
Some commenters on FB disagreed with the practicality of this recommendation.
Said one:
There is no way for a parent to know exactly what their child is doing at all times AND be an attentive driver. It's an unfortunate situation and you handled it well at the scene, but you missed the mark with your blame game. The parent's attention was where it was supposed to be … on the road."
Another:
A little unfair to expect a parent to be aware of exactly what your child is doing in the back seat while they are trying to concentrate on traffic and the road ahead of them! Better to teach children how dangerous and problematic this kind of behavior is."
But our heavenly Father knows. All things. At all times.
O LORD, You have searched me and known me.
You know when I sit down and when I rise up; You understand my thought from afar.
You scrutinize my path and my lying down, And are intimately acquainted with all my ways.
Psalm 139:1–4
One commenter added:
The girl clearly didn't think it through, but it's a funny idea, anyway. She will probably end up a comedian.
Or a Calvin and Hobbes fan.
But I'd prefer her becoming (if she is not already) a child of God, with a heavenly Father, as she believes in Jesus Christ as her only God and Savior from sin.
SOURCES:
The Sacramento Bee; USAToday.com