Peace?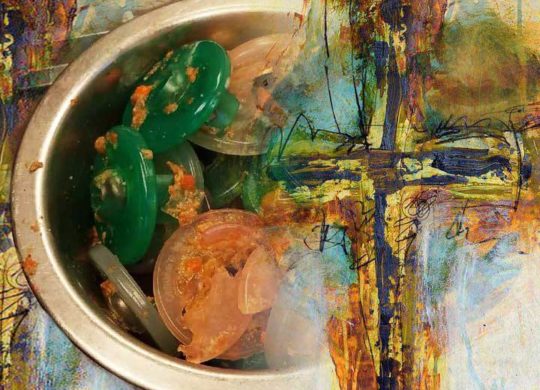 Dovey the Shar Pei, belonging to Scott Rogers and his wife, of Edmond, Oklahoma, was pretty peaceful. She found peace. Not only was the canine cute and cuddly, she was peaceful.
It was only when certain household items began to go missing during the past few months did the Rogers family understand the secret of Dovey's placidity.
Said Scott:
We have a 6-month-old baby and, you know, we have binkies in the house because of the baby and over the past five months, we've been missing many binkies."
Oh, well, they thought, resigned to the fate of the missing pacifiers. They fingered the usual suspects: restaurants, car floor, between couch cushions, under the bed, and so on.
Turns out that these missing peace-providing paraphernalia were hiding out in-of all places-Dovey's stomach.
Scott:
She's been eating and drinking and playing and acting normal up until just recently."
When Dovey began throwing up and losing weight the Rogers got concerned. At the vet, the dog got an X-ray.
And, lo and behold, the case of the missing pacifiers was solved, in one fell swoop.
Here's Dr. Chris Rispoli, of Gentle Care Animal Hospital, pointing out the shadows of the absconding binkies on the X-ray:
These are all the sides of the binkies and if you look right here, there's one that's straight on. They're too big to go through the GI tract, so we decided we had to open her up and get them out. And they just kept coming out and we ended up with 21 of them. This was the most fascinating and exciting surgery I have ever done!"
Twenty-one! No wonder she was at peace!
Thankfully, Dovey is recovering well after her binkiectomy.
Dr. Rispoli is warning dog owners about the dangers of their pets eating the wrong things:
We've had corn cobs and socks and things like that, but never 21 binkies. The best thing to do with any dog at home that eats anything is to pick everything up. And when their eating habits change, when the way they act changes, get them seen right away."
Swallowing pacifiers will, in the long run, only disturb your peace. That's the moral of the story.
The first step to peace is to place one's trust in Jesus Christ as one's only God and Savior from sin-justification by faith.
Therefore, having been justified by faith,
we have peace with God through our Lord Jesus Christ.
Romans 5:1
But peace needs continued maintenance even after that step of faith. And that comes by focusing on God and the things of God.
You keep him in perfect peace whose mind is stayed on You,
because he trusts in You.
Isaiah 26:3
Especially the word of God, the Scriptures, encompassed by the term "law."
Those who love Your law have great peace,
And nothing causes them to stumble.
Psalm 119:165
Know that God is our Father, we can rest.
In peace I will both lie down and sleep,
For You alone, O LORD, make me to dwell in safety.
Psalm 4:8
We can trust God in every contingency.
Be anxious for nothing, but in everything by prayer and supplication
with thanksgiving let your requests be made known to God.
And the peace of God, which surpasses all comprehension,
will guard your hearts and your minds in Christ Jesus.
Philippians 4:6-7
And so …
"The LORD bless you, and keep you;
The LORD make His face shine on you, And be gracious to you;
The LORD lift up His countenance on you, And give you peace."
Numbers 6:24