Pizza!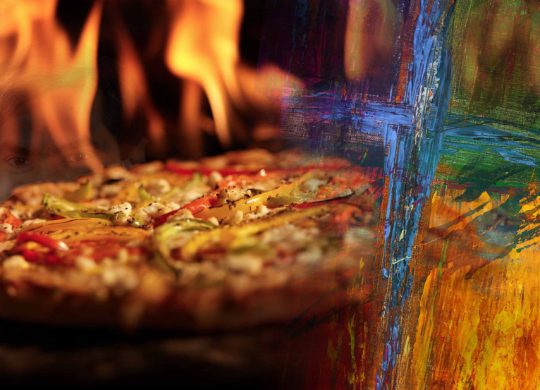 In the past, i.e., before "The Physics of Baking Good Pizza" was published by researchers from University of Rome Tor Vergarta, Argonne National Laboratory, and Northern Illinois University, in Physics Education this September, you had only one option. If you wanted a perfect pizza, you had to book your ticket to la città eterna, Rome. That was it.
No more.
Now you can simulate that experience in your humble electric oven. At home.
The mouth-watering study by physicists examined how to produce a perfect simple pizza Margherita, with tomato, mozzarella, and basil (the red, white, and green of Italy's flag), in a brick oven, overseen by a "pizzaiolo" (the guy who makes the pizza).
It all apparently depends on the physics of the oven. With wood burning in one corner, heat radiates through the curved walls and stone floor of the furnace, producing an even bake of the pie. And all it took was precisely 2 minutes @ 625°F. Just follow this:
σ [(T1°)4 − (Tpizza)4] τ + 2κ (T1°−T0) √τ/πχ = cd°ρd°d  (Tpizza – T2d°) + αLρwaterd
(Which, BTW, is equation #13 in the paper, if you are interested.)
All that to say, you can perform the pizzaiolo's brick-oven stunts at home in an electric oven, but at 450°F for 170 seconds! (Longer if you add additional toppings, of course.)
Reported one journalist:
The authors concluded that, while your homemade pizza will probably never be as perfect as a fresh, firebrick pie devoured in front of 1,000 eager pigeons near the Colosseum, physics can help you take a step in the right direction.
[In light of the season we are in, I'd like to state for the record that "pizza" first showed up on a Latin parchment (Codex Diplomaticus Cajtanus) reporting a list of donations due by a tenant to the bishop of Gaeta (Naples). Dated 997 AD, said good reverend was to receive a supply of duodecim pizze (i.e., twelve pizzas) every Christmas and Easter. Those were the good old days for ordained clergy!]
The furnace is not just for pizza, though. The Bible uses it as a metaphor for trial, testing, and punishment.
Said God of his people:
"Behold, I have refined you, but not as silver;
I have tested you in the furnace of affliction."
Isaiah 48:10
The prophet Jeremiah agreed, describing quite precisely the effect of such punitive baking upon the skin (this dermatologist, residing in the oven state of Texas can attest to the accuracy of the seer):
Our skin has become as hot as an oven,
Because of the burning heat of famine.
Lamentations 5:10
All of God's enemies will meet the same fate:
Your hand will find out all your enemies; Your right hand will find out those who hate you.
You will make them as a fiery oven in the time of your anger;
The LORD will swallow them up in His wrath, And fire will devour them.
Psalm 21:8–9
Indeed, God, like a furnace testing precious metals, tests us all.
The refining pot is for silver and the furnace for gold,
But the LORD tests hearts.
Proverbs 17:3
Awake O Israel, out of your slumber
And the truth shall set you free
For out of Zion comes thy Deliverer
In the Year of Jubilee!
Hallelujah, praise the Lord!
Out of the furnace of much affliction
I have chosen thee, behold!
And for your iron, I'll give you silver
And for your brass I'll give you gold!
You are my chosen, for I have sought thee
Thou art graven on my palms
And I will gather all those I've scattered
And return them to their land.
Merla Watson (1974)
The Deliverer has come!