Presence?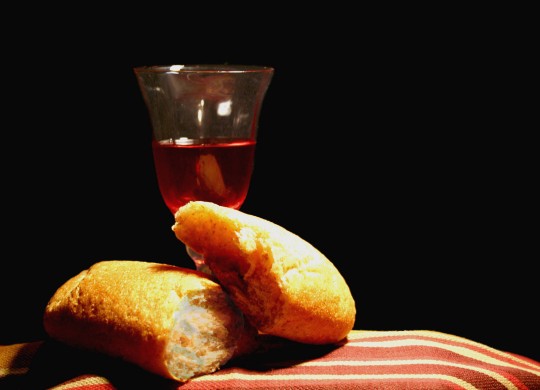 Last year, Saddleback Church ("One family, many locations") in Southern California introduced online communion!
Here are their directions.
1. Purchase Grape Juice (quantity depends on size of your group)
2. Purchase Bread or Baked Crackers
3. Be Ready at Home with Your Elements
The teaching pastor will direct you through properly receiving communion. All you need to do is follow along online individually, as a group.
4. Share With Us
After receiving communion online, please fill out a response card or email [us] letting us know how many in your home participated in receiving communion. Snap a quick photo and include it in your email as well."
Neat!
Here's one online comment provided tongue-in-cheek to the notion of online communion.
Awesome idea! I don't like people anyway. How great that I can be a Christian and get my preaching from the TV, communion from the internet, worship from a iTunes download and serve the less fortunate by making a financial donation online. Who needs other people to be accountable to, or to learn from, or to serve alongside with. I sure hope heaven is this way, cause being in community with people is too troublesome and demanding. Who wants that?"
The church is an embodied organism. Getting virtual in preaching, communion, praise, service, and fellowship seems to violate the notion of bodiness and interpersonal presence, face to face, eye to eye, hand to hand, shoulder to shoulder. Is this, as one scholar suggested, a variation on the ancient heresy of Gnosticism that decided that true spirituality is that of the soul and has nothing to do with the body and humanity's flesh and blood existence?
What about Jesus Christ who was incarnate as man?
And the Word became flesh, and dwelt among us, and we saw His glory.
John 1:14
And the many comparisons in the Bible between church and body?
Now you are Christ's body, and individually members of it.
1 Corinthians 12:27
Can there be commitment to one another with being in one another's presence (of course, there is also the question of whether one can be in another's presence over cyberspace)?
Can there be discipling without being face to face? (Or for that matter, can there be parenting without presence, parenting online? Discipling, after all, is parenting of a spiritual kind.)
And there is the biblical command to assemble.
Let us consider how to stimulate one another to love and good deeds,
not forsaking our own assembling together, as is the habit of some,
but encouraging one another.
Hebrews 10:24–25
Can there be stimulation to love and good deeds, and encouragement, without assembly? Online? Via texting, email, phone call? There is value in these things, of course, but ….
Then again, what is presence? I usually perch on the back pews of my relatively large church on Sunday mornings. What if the church was twice as big and I was still in the back? Or ten times as large—or a hundred times—and I could see nothing at all, except the large screen with the band and preaching projected, and I could hear nothing, unless it were amplified via cables and speakers? Am I "present" in worship in such a situation? Now substitute those cables with ethernet lines, and those speakers with servers, and those big screens with a laptop monitor. Am I still "present"?
Hey, we've already changed wine to grape juice and bread to crackers, haven't we?
Everyone is agreed that there should be interpersonal presence. How exactly that is accomplished is the issue.
I have no answer to these questions, pro or con (after all I am a  theologian). Any ideas? Comments welcome.