Race?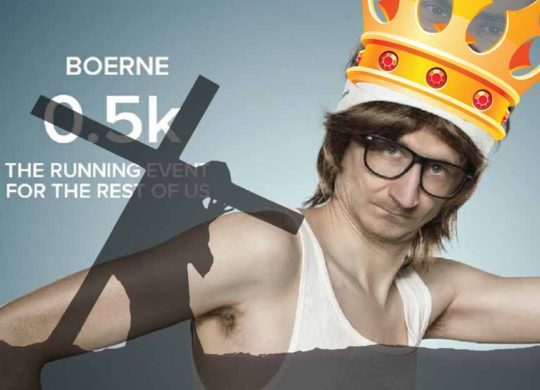 I think this Texas town is on to something.
Boerne, about thirty miles northwest of San Antonio is organizing a race for "fellow underachievers" on May 5. Not only does that name suitably describe the rest of us ordinary mortals, there are perks: You'll get free beer, donuts, and coffee, provided by local businesses.
It's called the Boerne 0.5k race.
Yes, you read it right: 0.5k. 546 yards to be exact. 1,638 feet. 0.310277 miles. About four football fields long.
Organizers call it "The Running Event for the Rest of Us!"
Said Jay Milton, resident of ye olde Boerne, TX (pronounced: "Bernie"; settled: 1849; pop. 10,471), and on the organization committee for Boerne 0.5k:
The course is basically a straight shot along a creek between two brewpubs, The Dodging Duck and the Cibolo Creek Brewing Company."
That explains the free beer! You get a pint at the beginning and at the end. No, you don't get a donut before you start. That comes at the halfway mark, after you've burned all those calories running 0.1551385 miles. 273 yards. 819 feet. And the coffee hydration station is also right there, next to the smoking area and the costume contest parade ground. (Yes, you can come in costume and it's a competition.)
(There's also a medical tent, for the underachieving ones who collapse—after those free pints, I suppose.)
The $25 they collect for registering will go to Blessings in a Backpack, a nonprofit that …
… mobilizes communities, individuals and resources to provide food on the weekends for elementary school children across America who might otherwise go hungry."
And if you pay an extra $25, you, an "uber-underachieving VIP," will be shuttled across the finish line in a restored 1963 Volkswagen bus.
Sounds good? Well, you're out of luck, it's too late. Tickets sold out April 19. All 225 slots have been filled for the, um, "race." The society organizing this "race"—yes there is a society and it's called [wait for it!] "The Society for Lazy and Carefree Runners (SLACR)"—explained that the halting of registrations was at the request of the brewpubs who weren't sure they could handle a larger Saturday morning crowd of underachieving racers.
But not to worry. There are still opportunities to sign up on the event website, says Boerne 0.5k organizers, because they need volunteers (to take care of those underachievers).
But the best part is this: Everyone wins!
Exclaimed the event's Facebook page:
Everyone gets recognized for their achievements at this event, no matter how bad they are, because we are all about positivity and self-worth."
Explained Milton:
Everyone gets a medal—a pretentious oval Euro-style 0.5k sticker that you can attach to the rear window of your car to show everyone what a cool hipster you are."
But, if you are one of those blessed underachieving VIPs (who shelled out an extra $25), you get a bigger medal, because, organizers declare:
You are even more important!"
I like the concept. A race where everyone wins. And medals for all, bigger ones for some. This is all very biblical, you know.
I have fought the good fight, I have finished the [race] course, I have kept the faith;
in the future there is laid up for me the crown of righteousness.
2 Timothy 4:7–8
And the rewards will vary:
For we must all appear before the judgment seat of Christ,
so that each one may be recompensed for his deeds in the body,
according to what one has done.
2 Corinthians 5:10
Start running!