Reality!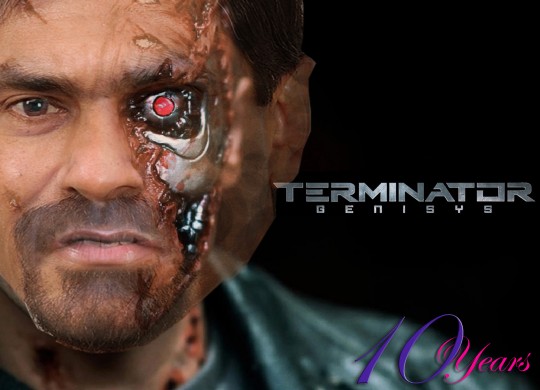 Arnold Schwarzenegger, the former governor of California, returned to the screens this summer in Terminator Genisys as the Terminator. But in real life he was scary.
To support the After-School All-Stars program (that helps keeps children "safe and healthy, to graduate high school and go to college, to find careers they love and then give back to their communities")—and, likely, to have some fun—our man AS donned his Terminator costume and makeup, and roamed the streets of Hollywood one afternoon, the other day. Complete with metal skull showing through his skin, and horrible looking lacerations, he delivered all his classic Terminator lines, not letting on that he was the real thing.
To a couple at a bus stop, he recommended, "Come with me if you really want to live." To other Terminator impersonators strolling around, he gave tips on his accent and how to utter the words, "I'll be back!"
Then he headed off to Madame Tussaud's Wax Museum in Hollywood and took his place among the models.
At one point, a couple came alongside the frozen Mr. Schwarzenegger and stood on either side of the "waxwork" to get their daughter take a picture. Mr. S suddenly put his arms around the couple, who screamed and ran for their lives.
Another lady came by, stood next to him and, as she posed for a picture, declared, "He looks real." "Because he is," replied Mr. Terminator patting the good lady on the head. The terrified visitor took to her heels squealing.
It was all very funny, but what would you do if a wax figure suddenly came to life next to you, or a superhero, or … God?
Well, he did: God.
"For God so loved the world, that He gave His only begotten Son,
that whoever believes in Him shall not perish, but have eternal life."
John 3:16
God in flesh, "in-carnate," Jesus Christ came to die for our sins so that we may be reconciled to a holy God.
So what will we do, because God has shown up in this world, to show grace to us sinners?
For by grace you have been saved through faith;
and that not of yourselves, it is the gift of God;
not as a result of works, so that no one may boast.
Ephesians 2:8
There's actually nothing we can do, except receive the free gift by faith, believing in our hearts that Jesus Christ, is our only God and Savior, and that he died on the cross and rose again paying the full and final price for our sins.
He came to live, live a perfect life,
He came to be the Living Word, our Light;
He came to die, so we'd be reconciled,
He came to rise to show His power and might.
He came to live, live again in us,
He came to be our conquering King and Friend;
He came to heal and show the lost ones His love,
He came to go prepare a place for us.
That's why we praise Him, that's why we sing,
That's why we offer Him our everything;
That's why we bow down and worship this King,
'Cause He gave His everything!
Tommy Walker, 1999
Yes, that's why he came.
"And you shall call His name Jesus, for He will save His people from their sins."
Now all this took place to fulfill what was spoken by the Lord through the prophet:
"Behold, the virgin shall be with child and shall bear a son,
and they shall call his name Immanuel," which translated means, "God with us."
Matthew 1:21
Have a blessed Christmas!