Renamed!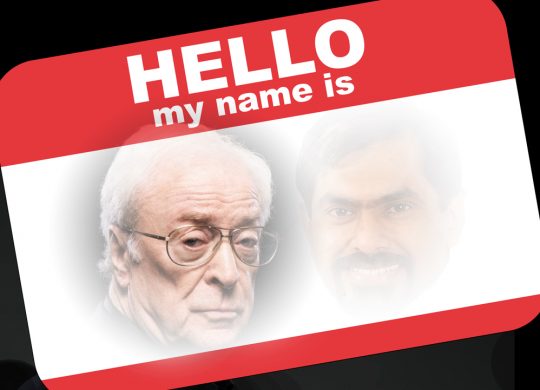 Until recently, he was Sir Maurice Joseph Micklewhite. No more. He's now officially Michael Caine.
Yes, that Michael Caine. Sir Michael Caine, CBE. The British film icon, who has appeared in over 115 films, from A Bridge Too Far to The Dark Knight Trilogy. This guy is the ninth highest grossing box office star. Caine is only one of two actors ever nominated for an Academy Award for acting in every decade from the 1960s to the 2000s. Oscar-nominated six times, he won it twice. He was made Commander of the Order of the British Empire (CBE) in 1992 and knighted by H.M. QEII in 2000. And in 2012, he was made a Commander of the Ordre des Arts et des Lettres by the French government.
This 83-year-old actor, author, music lover (and cricket lover, I might add) was born Maurice Joseph Micklewhite. He's no longer Maurice Joseph Micklewhite. He's finally Michael Caine.
That was a name he picked up when he began acting. Then he went by "Michael Scott," but when cast for a play in London in 1953, there was another actor using the same pseudonym. A harried call from his agent gave him three days to provide a new name.
I was in a telephone booth in Leicester Square and I was opposite the Odeon and I looked up, and my favorite actor is Humphrey Bogart, and there it was, a film poster for the Bogart naval drama. It said 'The Caine Mutiny,' so I said, 'Caine! Michael Caine!'"
The rest is history.
Well, that was only his stage name. But not too long ago, stage name became his official one.
I changed my name when all the stuff started with ISIS and all that. An airport security guard would say, 'Hi, Michael Caine,' and suddenly I'd give him a passport with a different name on it. I could stand there for an hour."
Nope, Sir Maurice Joseph Micklewhite, CBE, 83, ought not to be standing in airport security lines for an hour. Hopefully, Sir Michale Caine, CBE, 83, won't have to.
Not that we should care too much about our names.
Some boast in chariots and some in horses,
But we will boast in the name of the LORD, our God.
Psalm 20:7
That's the Name worth caring about. That's the Name we should be concerned about. No other name will bring success or fulfillment or salvation.
And there is salvation in no one else;
for there is no other name under heaven
that has been given among men
by which we must be saved.
Acts 4:12
And for that name we live, and move, and have our being.
I will glorify Your name forever.
Bless the LORD, O my soul,
And all that is within me,
bless His holy name.
Psalm 86:12; 103:1
That's the Name that will be over every other name.
At the name of Jesus,
every knee will bow,
of those who are in heaven
and on earth and under the earth,
and that every tongue will confess
that Jesus Christ is Lord,
to the glory of God the Father.
Philippians 2:10–11
And amazingly, those who believe in Christ will get His name.
To the one who overcomes, to him I will give … a new name.
Revelation 2:17
And one day, at the end of time …
There will no longer be any curse;
and the throne of God
and of the Lamb will be in it,
and His bond-servants will serve Him;
they will see His face,
and His name will be on their foreheads.
Revelation 22:3–4
Because we bear His name, ours will never be lost.
Rejoice that your names are recorded in heaven.
Luke 10:20
These recorded names—Abrahams and Kuruvillas and all the rest—are permanently there, in heaven, for ever.
He who overcomes will thus be clothed in white garments;
and I will not erase his name from the book of life,
and I will confess his name before My Father and before His angels.
Revelation 3:5
Renamed! For eternity!