Rest!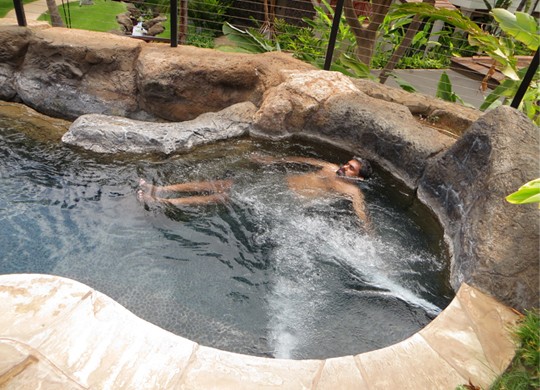 Another busy summer. Can't you tell?
Appearances, folks, are deceptive. It has been/is a busy summer— about 3 months of weekly preaching, two writing projects, another being polished and finalized, clinical schedules, …. So that respite in the hot tub at our resort in Maui a couple of months ago was very welcome.
Not that I don't appreciate the busyness of life, especially when I get to do things I thoroughly enjoy. But it was fun to lie around in Maui and do nothing (much). Just rest.
Rest is a big deal in the Bible. God himself rested, right after creation, though, unlike us, he wasn't weary of his exertions.
Then God blessed the seventh day and sanctified it,
because in it He rested from all His work
which God had created and made.
Genesis 2:3
Does that mean God quit all work absolutely?
The question of whether God actually worked even on Day 7 has vexed many. After all, God did bless and sanctify on that day (Gen 2:3)—was that work? The ancient rabbis, wondering whether God was working if he sent wind and rain on the Sabbath, argued that such an action undertaken by God fell within boundaries of the permission for a person to do certain kinds of work in his own house. Well, the whole world is God's own private domain—his own "house," so to speak—and so God's actions to sustain his created enterprise were entirely admissible. Such an understanding may conceivably be the basis of Jesus' declaration:
"My Father is working until now,
and I Myself am working."
John 5:17
Thus the "rest" of God is not exactly an abstention from work, only a cessation of his cosmos-creating endeavor. Nonetheless, his rest is a model for us. We are called to rest, not because our work is over—it never is, is it?—but because he has done it all!
So we can rest, and stifle our egoistic God-complexes: "I must be working, because if I don't nothing will get done. It all depends on me."
It doesn't!
Thankfully, the earth will still rotate if I choose to rest in a hot tub in Maui.
Because God is in charge, because he is a loving God who ensures our welfare, we can rest, trusting ourselves to his care:
And He said, "My presence shall go with you,
and I will give you rest."
Exodus 33:14
Just as Jesus exhorted his followers:
"Come to Me, all who are weary and heavy-laden,
and I will give you rest.
Take My yoke upon you and learn from Me,
for I am gentle and humble in heart,
and you will find rest for your souls."
Matthew 11:28–29
In fact, those inclined to work, work, work, from morning to night, are admonished in Scripture:
Unless the LORD builds the house,
They labor in vain who build it;
Unless the LORD guards the city,
The watchman keeps awake in vain.
Psalm 127:1
In vain, unless God does it—all our transactions … futile.
It is vain for you to rise up early,
To retire late,
To eat the bread of painful labors;
For He gives to His beloved even in his sleep.
Psalm 127:2
In other words, even in the depths of our slumber, God is working, God is giving. For this God doesn't sleep.
My help comes from the LORD,
Who made heaven and earth.
He will not allow your foot to slip;
He who keeps you will not slumber.
Psalm 121:2–3
So take a nap, will you? Or jump into a hot tub!