Retired!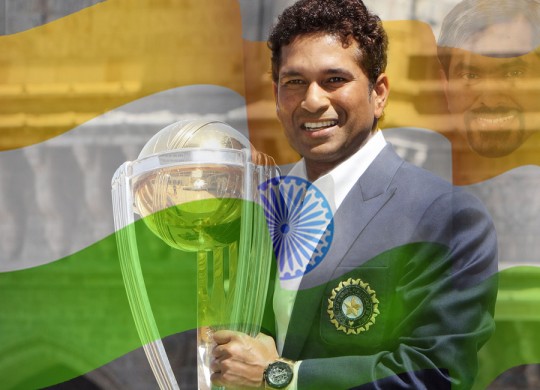 The end of the era came at 11:46 am Indian Standard Time, November 16, 2013 C.E. His teammates gave him a mobile guard of honor as they walked him off the field. The roar from the stands was ear-shattering.
Sachin Ramesh Tendulkar had played his last game of cricket for India.
Readers of this blog in years past will have noticed my affinity for that noble game and will have registered my affection for this pint-sized (he's 5'5″) champion who is has been, without a doubt, its greatest player, with an incredibly long career of 24 years that began at the age of 16! And all without a whiff of scandal, a note of misbehavior, or an inkling of malpractice.
Tendulkar's stats are peerless. He has broken every batting record there is to break. In cricketing history, no one has played more matches or scored more runs. He's he only individual to accomplish the unprecedented feat of scoring 100 centuries (100 or more runs—a "ton"—in an innings)! Hitting just one is remarkable. Hitting a hundred of them—unfathomable! Over 34,000 runs in the major forms of cricket, dwarfing next best by over 6,500 runs!
"Ton"-dulkar!
The man has given me hours of joy the last two decades like no one else in the arena of sports.
But after his 200th Test match (200th!), that ended with India comprehensively defeating the West Indies two weeks ago, Tendulkar is now a former national cricketer.
No more the turning off of the TV when he gets out. No more eagerly waiting for the first two Indian wickets to fall so that #4, Tendulkar, will come on to bat. No more the unique and recognizable chant, in any of India's cricketing venues: "Sach-i-i-in, Sac-hin."
He called it quits the other day after scoring a classy 75, with all of his trademark strokes executed with panache!
One sportswriter announced:
The show is over. The final episode has ended. The music has faded. The credits have rolled. Done with the presentation. Done with the speech to trump all farewell speeches. Now all we have are the memories. All we have are the stories. … He leaves behind an immense emptiness."
The global warrior of the 22 yards, wielding his wooden scimitar, has retired from the game.
Bigger than Michael Jordan, more adored than Wayne Gretzky, more revered than Pele, more known than Babe Ruth, more recognized than Muhammad Ali. In a country with 18 official languages and over a billion people, Tendulkar's cricket bonded Indians together. In a recent poll to name the greatest Indians after Gandhi, Tendulkar was in the top ten … and the youngest in the list.
Of all the hundreds of banners that were visible on the ground two weeks ago, one said: "Gods never retire!"
They were right. God never retires. Never!
I will lift up my eyes to the mountains; From where shall my help come?
My help comes from the LORD, Who made heaven and earth.
He will not allow your foot to slip; He who keeps you will not slumber.
Behold, He who keeps Israel Will neither slumber nor sleep.
Psalm 121:1–4
Heroes fail and falter. Not God. Humans have feet of clay. Not our God. A A prodigy will age. A phenomenon will fade. But God neither ages nor fades. And his love never faileth.
The LORD is your keeper; The LORD is your shade on your right hand.
The sun will not smite you by day, Nor the moon by night.
The LORD will protect you from all evil; He will keep your soul.
The LORD will guard your going out and your coming in
From this time forth and forever.
Psalm 121:5–8
Amen!