Rhythm!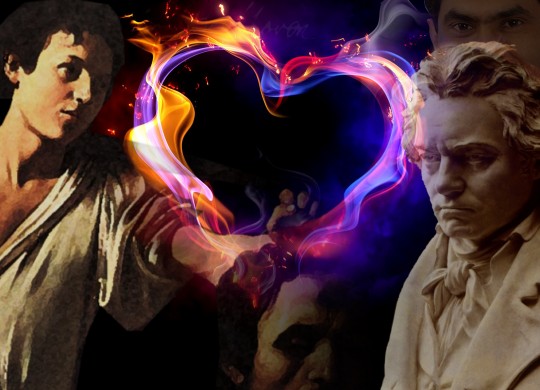 Apparently, not only do we have GPSs in our systems (last week's blog), but they say we have an internal metronome, too.
A study published last year in Perspectives in Biology and Medicine argued that the human heart quietly marks the entire rhythm of our lives, not just that of blood flow. Whether it ticks at 40–100 beats a minute, in three-quarter time, or in triplets, or erratically, it's influencing more than the red stuff in our arteries.
In "The Heartfelt Music of Ludwig van Beethoven," Zachary Goldberger, Steven Whiting, and Joel Howell (a cardiologist, an internist, and a musicologist, respectively, at the University of Washington and University of Michigan Schools of Medicine) saw the maestro's music as a sort of musical EKG. In his dotted rhythms, intricate patterning of beats, sudden pauses, and all, this trio claims to have heard the distant echo of the composer's heart. The man, FYI, died in 1827, aged 56.
While others hear compelling music, these guys hear cardiac arrhythmia in Beethoven! Though LvB was likely afflicted by alcohol-induced cirrhosis, lead poisoning, and syphilis, his autopsy revealed a structurally sound heart. Undeterred, these researchers studied a few of Beethoven's piano sonatas and string quartets to point out the rhythmic idiosyncrasies that are apparently indicative of his irregular heartbeats.
The guy was also deaf. Maybe, our authors suggest, the dimming of external sounds made Beethoven exquisitely sensitive to his internal rhythms—his heartbeat.
Goldberger, the cardiologist, confessed:
"This is entirely speculative. At least it gives us a new dimension by which to listen to his music."
The scientists heard "distinctive 'galloping' rhythms" in one piece, and another, a frenetic seven-measure section in Beethoven's String Quartet No. 13, they characterized as "a short paroxysm of atrial tachyarrhythmia." This latter section has the composer's direction for performance: beklemmt ("heavy of heart"). Musicians have oft complained that this portion evokes in them a shortness of breath.
Noted Howell, the internist, who also has a PhD in the history and sociology of science:
"When your heart beats irregularly from heart disease, it does so in some predictable patterns. We think we hear some of those same patterns in his music."
Interesting! One's heart influences the music one writes. That's not to say that all composers who produce irregular syncopated rhythms suffer from heart disease. But still …
What one's heart beats for can influence one's life.
When the prophet Samuel went to Bethlehem to anoint one of Jesse's children as Israel's next king, he was taken by the stature of Jesse's oldest son, Eliab. But God intervened ….
"Do not look at his appearance or at the height of his stature, 
because I have rejected him; for God sees not as man sees,
for man looks at the outward appearance, but the LORD looks at the heart."
1 Samuel 16:7
God then pointed out David. Here was a candidate for royalty whose stature was not visible on the outside. His was an eminence that was an inside reality, a character that was internal, a solidity that was inward—a stature of the "heart."
What was special about David's cardiac status?
"The LORD has sought out for Himself a man after His own heart,
and the LORD has appointed him as ruler over His people."
1 Samuel 13:14
Only such a one with a heart for God could, in the face of imminent danger from Goliath, exhort:
"Let no man's heart fail on account of him;
[I] will go and fight with this Philistine."
1 Samuel 17:32
The rest, of course, is history.
Yup, the heart affects life—a heart for God!