Royalty!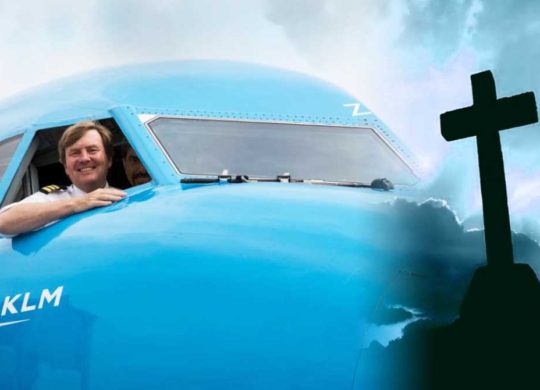 If you fly Cityhopper, the regional carrier subsidiary of KLM Royal Dutch Airlines that ferries folks between European cities, you might in for a pleasant surprise.
Your pilot might be Willem-Alexander Claus George Ferdinand (1967–), "by the Grace of God, King of the Netherlands, Prince of Orange-Nassau, Grand Duke of Luxembourg, Marquis of Veere and Flushing, Count of Katzenelnbogen, Vianden, Diez, Spiegelberg, Buren, Leerdam and Culemborg, Burgrave of Antwerp, Baron of Breda, Diest, Beilstein, the town of Grave and the lands of Cuyk, IJsselstein, Cranendonk, Eindhoven, Liesveld, Herstal, Warneton, Arlay and Nozeroy, Hereditary and Free Lord of Ameland, Lord of Borculo, Bredevoort, Lichtenvoorde, Het Loo, Geertruidenberg, Clundert, Zevenbergen, Hooge and Lage Zwaluwe, Naaldwijk, Polanen, St Maartensdijk, Soest, Baarn, Ter Eem, Willemstad, Steenbergen, Montfort, St Vith, Bütgenbach, Dasburg, Niervaart, Turnhout and Besançon."
Better known as "Alexander."
[In fact, that's how the guy introduced himself to his wife-to-be, Máxima, when they met in Seville, Spain, during a fair. She had no idea he was royalty. Later when he disclosed his identity, the good lady thought Alexander was joking! She, of course, is now the Queen!]
For the last two decades, the King of the Netherlands has been putting the "royal" in KLM Royal Dutch Airlines, flying twice a month as a commercial airline pilot. Incognito to passengers, who don't recognize their Head of State.
Said His Majesty:
Of course, I greet passengers over the intercom, but the advantage is that I can always say that I wish everyone a heartfelt welcome in the name of the captain and the crew. So I don't have to say my own name. But most of the people don't listen anyway."
Willem-Alexander said the intense focus needed for piloting takes his mind away from other concerns.
For me the most important thing is that I have a hobby for which I need to concentrate completely. You have an airplane, passengers and a crew. You carry responsibility for that. You cannot take your problems from the ground with you in the sky. You can for a brief moment disconnect and concentrate on something else. That is the biggest relaxation of flying to me."
And, no, he has no plans to expand his skills to larger aircraft and longer flights.
Said the good kapitein:
I can't be involved in trips that prevent me from getting back in time to the Netherlands in case of an emergency."
Another King—this one of the entire universe, and its Creator, no less—visited his people during an emergency.
"You shall call His name Jesus, for He will save His people from their sins."
Matthew 1:21
He brought light and salvation to us:
The people who walk in darkness Will see a great light;
Those who live in a dark land, The light will shine on them. …
For a child will be born to us, a son will be given to us;
And the government will rest on His shoulders;
And His name will be called Wonderful Counselor, Mighty God, Eternal Father, Prince of Peace.
Isaiah 9:2, 6
The Captain par excellence:
"I am the good shepherd;
the good shepherd lays down His life for the sheep."
John 10:11
The Ruler of all things and all places, seen and unseen, then, now, and forever:
"He is Lord of lords and King of kings."
Revelation 17:14
Will we recognize him?
And the Word became flesh, and dwelt among us,
and we saw His glory, glory as of the only begotten from the Father,
full of grace and truth.
John 1:14
Immanuel, Immanu-El, "God [is] with us!"
Veiled in flesh the Godhead see;
Hail th'incarnate Deity!
Charles Wesley, 1739
Have a blessed Christmas!