Slow!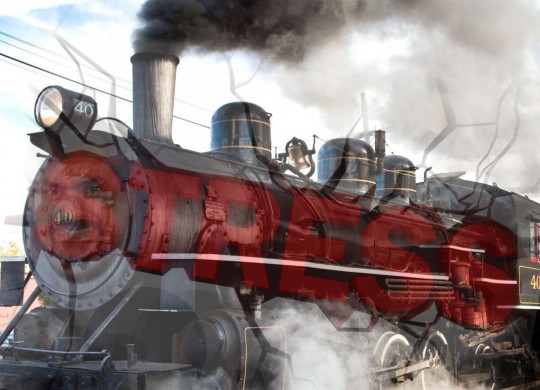 Most folks on those long flights across oceans have found solace in the latest music videos, Hollywood blockbusters, favorite TV series, or even just listening to all kinds of music that is available at the punch of a button: on-board entertainment. Others bring their own distractions: books, games, videos, ….
Apparently, also popular are those satellite shots of the aircraft making its way to its destination, invigorating action that is accompanied by spectacular details of windspeed, outside temps, time to terminus, etc.—for those who love that stuff.
[Yup, me! My monitor is on this channel and nothing else, while I read, nap, or eat. It's the grown-up version of the answer to "Are we there yet?"]
Anyhow, with the interest in these satellite channels showing flight paths and other inanities, British Airways had a brilliant idea. Slow TV. Yes, slow TV.
BA flights will now include a dedicated programme of quiet, meandering television, with a screening of an entire seven-hour-long train journey from Bergen to Oslo."
A seven-hour journey, on train, can be viewed as you hurtle through the skies, 30,000 feet above terra firma. And there's no commentary, no narrative, no plot, no love interest, no nothin'. Just a seven-hour-long rail trip. From Bergen to Oslo. Past lakes, stations, countrysides, snow-capped mountains, and through over a hundred tunnels—which transits, of course, are in total darkness. Calming!
Slow TV. A unique genre of live coverage of rather mundane events for its entire duration. The concept is derived from artist Andy Warhol's "slow" movie Sleep (1963) that depicted the poet John Giorno fast asleep for the entire duration of five hours and twenty minutes. Slow TV, indeed!
[When the Bergen–Oslo feature ran on Norwegian Broadcasting Corp's NRK2 channel to commemorate a century of that train route, it received record ratings. They also did one lasting eight hours … of a burning fireplace! And the five-and-a-half day journey of a cruise ship along the Norwegian coast!]
BA believes passengers will appreciate the "mesmerising," calming quality of the Slow TV channel (lest men and women closeted in an aluminum cell for 420 minutes revolt, I suppose).
Said Richard D'Cruze, in-flight entertainment manager for BA:
It fits perfectly with the 'wallpaper' style footage people find mesmerising in-flight, such as our moving maps which customers watch for endless hours. There's definitely a hypnotic, calming and entertaining quality to 'Slow TV' that is perfect for in-flight entertainment."
Not to mention, that's real cheap for BA to produce and show. No actors, no makeup, no stunts, no editing, no nothin'.
BA has gotten real ambitious with this. If the train deal turns out to be a hit, they promise to screen a—get this!—a knitting program: passengers can see the whole process that begins with the shearing of sheep to the finished product of a sweater. Wow! That'll calm me down.
Arve Hjelseth, a sociologist from the Norwegian University of Science and Technology, observed:
We're more stressed these days, too, so it's a time to relax as well as an antidote to modern TV, where camera angles shift every second."
I've got some better ideas to calm me down and relieve my stress (stolen from the Bible):
When my anxious thoughts multiply within me,
Your consolations delight my soul.
Psalm 94:19
Cast your burden upon the LORD and He will sustain you.
Psalm 55:22
The LORD is for me; I will not fear;
What can man do to me?
Psalm 118:6
I have set the LORD continually before me;
Because He is at my right hand, I will not be shaken.
Psalm 16:8
Calm down!