Snapshot!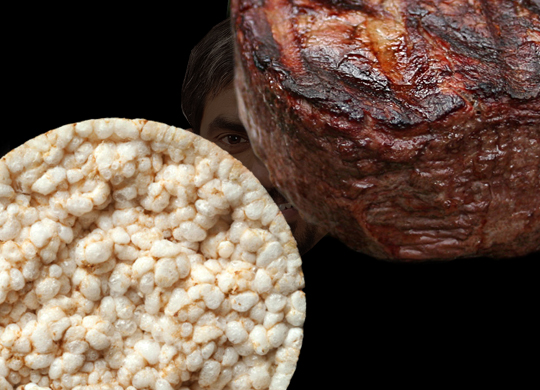 They say that we eat first with our eyes. Which is to say, if it looks good, I'm going to enjoy it more.
Scientists, though, have gone further. Apparently food that looks good can make dishes that are bland and not up to par taste better. And—get this!—you can achieve the same effect by just looking at pictures of good food.
In work jointly done by neuroscientists in Lausanne and Tokyo, they declared here: "Using electrical neuroimaging, we assessed whether high- and low-calorie food cues differentially influence the brain processing and perception of a subsequent neutral electric taste. When viewing high-calorie food images, participants reported the subsequent taste to be more pleasant than when low-calorie food images preceded the identical taste."
It seems that "visual cues constitute a primary sensory input indicating the pre-ingestive availability and palatability of food." I.e., if it looks good, it is gonna taste good.
"In conclusion, the present results provide evidence that high-calorie food cues enhance the hedonic evaluation of subsequently presented tastes."
So if you dress up your diet version of your fatty preference—or even if you just look at the picture of a calorific, lipid-laden twin of the slimming, lousy-tasting alternative—your low-cal nourishment will actually taste better.
Remarkable!
From now on, I'm going to look at a picture of a juicy steak as I consume my dry cereal, and stare at the photo of a fancy cappuccino as I imbibe my Folgers instant with non-dairy powdered cardboard and Splenda.
Who knows, maybe I could even go off my JIF habit, if I just keep a picture of it on my phone or something while I eat rice cakes!
But there is something to be said for this.
In Mark 8, Jesus lets his followers know that this life is not going to be a walk down a rose-strewn arcade. Rather, it is going to be full of trials and tribulations. He, himself, was going to go through the worst kind of turmoil.
And He began to teach them that
the Son of Man must suffer many things
and be rejected …, and be killed,
and after three days rise again.
Mark 8:31
Peter, understandably, is not pleased. Who would be?
And He was stating the matter plainly.
And Peter took Him aside and began to rebuke Him.
Mark 8:32
Jesus' reply to this chief disciple is scathing.
But turning around and seeing His disciples,
He rebuked Peter and said,
"Get behind Me, Satan;
for you are not setting your mind
on God's interests, but man's."
Mark 8:33
But Jesus does acknowledge the difficulty of what he asks his disciples to commit to, as they follow in his way, attending to God's interests.
And He … said to them,
"If anyone wishes to come after Me,
he must deny himself,
and take up his cross and follow Me."
Mark 8:34
How does he expect us to get through this trouble-filled life without collapsing?
Right after this discourse, Mark tells us of the glorious Transfiguration of Jesus on a high mountain, in the presence of Peter (and James and John).
And He was transfigured before them;
and His garments became radiant and exceedingly white,
as no launderer on earth can whiten them.
Mark 9:2–3
That's it. That's the high-calorie snapshot of future glory that disciples—sufferers in this world—must set their eyes on, to make the present distress-filled, low-calorie life more "palatable."
Suffering first, before glory. But the latter is coming. Soon and very soon.
Keep looking at the snapshot. Everything else will taste better.
Now we have proof!