Steal!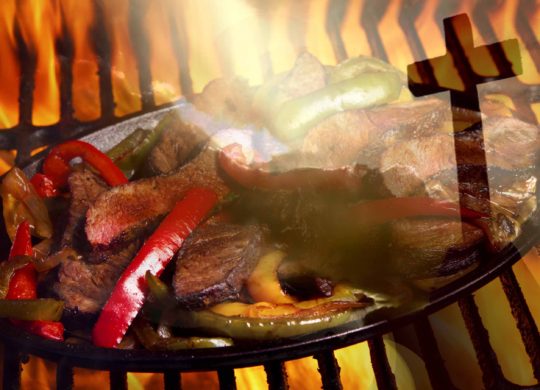 If you had been detained in the Cameron County (TX) Juvenile Justice Department between 2008 and this year, you might have wondered why you weren't served fajitas. Well, the answer is simple: the facility's cafeteria doesn't serve that delectable item.
But guess what? Since 2008, aforementioned Juvenile Justice Department has been paying for fajita deliveries.
It was only in August 2017 that the matter was cleared up. Apparently, the Labatt Food Service tried to deliver 800 lbs of fajitas (!) to the facility's kitchen, when a staffer there told that driver that, no, they didn't serve fajitas in the cafeteria. The driver responded by saying that he had been delivering fajita meat to the same place for the past nine years! To a certain Gilberto Escaramilla.
Gilbert, our man, wasn't filching a skirt or two now and then to feed himself and his family. He'd purloined $1,251,578 worth of meat! And over the nine years had become a reputed black-market dealer of rogue beef fajitas all over the Rio Grande Valley.
$1.2 million. Needless to say, Escaramilla was fired.
Said Cameron County DA Luis V. Saenz:
Escaramilla would literally, on the day he ordered them, deliver them to customers he had already lined up. We've been able to uncover two of his purchasers, and they are cooperating with the investigation."
First-degree felony charges are pending against Mr. Escaramilla.
But this bloke is not the first (and likely not the last) to steal beef in Texas, though this nine-year enterprise was the one that netted the most meat. (One wonders which was his side business, his work in the Juvenile Justice Department, or his beef embezzling operation.)
Here's The Texas Monthly on the beef-burglarizing instincts of us Texans:
What does that say about us? We'll leave that debate to the vegetarians and cultural anthropologists. But in Texas, a Google search of basically any cut of meat with the word 'bandit' after it is fairly certain to turn up results. 'Brisket bandit'? Check. In 2015, a San Antonio man was arrested after loading up trash cans full of brisket (and beer, naturally) from multiple local smokehouses. A suspect was captured after a high-speed chase, leading to felony charges. 'Steak bandit'? Yep. Last year, a Longview man led East Texas police in a high-speed chase after being suspected of stealing steaks from a local Walmart. (During his attempted getaway, he's alleged to have thrown the meat at the police cars in pursuit.) Indeed, Escaramilla isn't even the first suspected 'fajita bandit' to pop up in headlines in the Rio Grande Valley in recent years. In 2012, a pair in Weslaco made news after security cameras captured footage of them shoplifting fajitas from a local meat market over several nights."
You might also be interested to know that the Austin (TX) Police Department also launched a sting operation a few years ago to trap meat embezzlers. The program was called, quite appropriately, "Operation Meat Locker."
Hopefully, none of us is engaged in such nefarious transactions. But stealing is a problem. Especially by employees. One study estimated that that $50 billion (B.I.L.L.I.O.N) is annually stolen from U.S. businesses by employees! And 75% of employees have stolen at least once! Of course, no one counts the stealing of time and not working one's fullest for the time for which we are paid.
He who steals must steal no longer; but rather he must labor,
performing with his own hands what is good,
so that he will have something to share with one who has need.
Ephesians 4:28
Nice motto for the year: "Share, not steal," as the Bible exhorts.