Steve Mathewson: How I Preach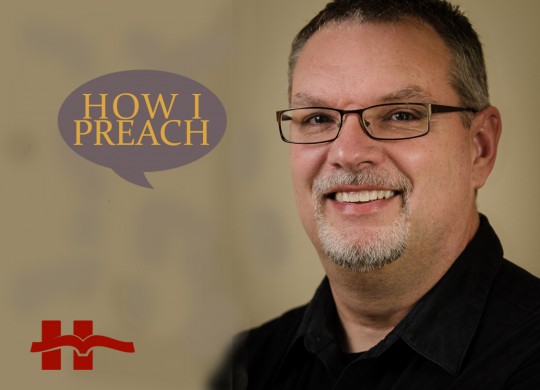 Steve Mathewson: And this is How I Preach …
[Steve's been a fixture in the camp of serious thinkers of preaching. Particularly on preaching Old Testament narrative, this man's wisdom is worth tapping. And his three decades of preaching experience have given him an abundance of that rare commodity. We shared a conference session last year at the Annual Meeting of the Evangelical Theological Society. The gracious and kindly soul he is, he consented to participate in this interview. Here's Steve ….]
Steven D. Mathewson
Senior Pastor, CrossLife Evangelical Free Church, Libertyville, Illinois
Current gig (preaching, teaching, etc.) and years at it:
Senior pastor at CrossLife Evangelical Free Church for almost 9 years.
Before that, pastored in Montana for 20 years.
I preach about 40 weeks a year currently.
Who or what made you want to preach:
When I was in high school, my heart was stirred by the preaching of expositors like Warren Wiersbe (Back to the Bible), George Rutenbar (Dallas Theological Seminary), Jerry Sheveland (President of Converge Worldwide), and Maynard Mathewson (my father). I saw how the exposition of Scripture led to the worship of God in my life and in the lives of others.
I also heard my share of poor sermons (in various churches I visited) and the effects—boredom, apathy, etc. I believe God used these experiences to fuel my passion to preach his Word in order to encourage and challenge his people.
Who are you most indebted to for making you the preacher you are (besides God)?
Haddon Robinson.
At first, he impacted me through his books, Biblical Preaching and Biblical Sermons.
Eventually, I had the opportunity to study under him and to enjoy a mentoring relationship and friendship.
Most used English Bible version:
New International Version.
Use of Greek and Hebrew (light/moderate/heavy)?
Fairly heavy in both Greek and Hebrew.
But it's not because I'm a whiz at learning languages. I'm not! Yet I determined early on that if I was going to devote my life to the study of the biblical text, then I should keep up on the languages in which it was written.
If I'm preaching an Old Testament book, then I'm automatically looking at my Hebrew every day. So I'll still carve out 10 minutes to read my Greek New Testament. Or, if I'm preaching a New Testament book, then I'm working in my Greek text every day. So I discipline myself to read 10 minutes in my Hebrew each day.
I've been fairly consistent in using both.
Software/hardware that you use for preaching prep?
BibleWorks.
I've also started using Logos Bible Software because of their "visual filter" feature which allows me to color code certain types of verbs (or any linguistic features I want to examine) in the Greek and Hebrew.
By the way, I can use this same filter on English versions so that non-Hebrew readers can see these things, too.
What tools/aids for sermon prep can't you live without?
Commentaries!
After I do my own personal study of the text, I interact with them and rely on them as the sermon preparation process proceeds. My practice is to use 3–4 of the very best commentaries rather than 10–12.
I look to the Commentary Surveys by Tremper Longman III (for the Old Testament) and D. A. Carson (for the New Testament).
What does your workspace look like when you are prepping?
Cluttered!
Several commentaries, Bible dictionary, Bible atlas, word-study books, biblical theology volumes, etc.
While I have a few of these on my Bible software programs, I am still a "book guy."
Illustrations: Where do you go for them and how do you store them?
Wherever I can find them.
In recent years, I tend to use a lot more personal illustrations.
My filing system will not win any awards! Nowadays, if I want to locate something I read a couple weeks ago, I can google it. So that has eliminated my need to file anything but the most striking articles or materials.
Tell us your sermon-prep routine.
I always do some "big picture" reading and preparation months ahead of most series.
I will create a rough outline of the series and try to produce a series title and a one-paragraph description of the series. Then, I usually start working on a particular sermon on the Monday before I preach it. Monday is my exegesis day.
By late Monday or on Tuesday, I start looking at commentaries.
By the end of Wednesday morning, my goal is to identify the sermon's big idea and create a rough outline of how the sermon will proceed.
On Wednesday afternoon, I meet with a couple of other pastoral staff members for a "preaching planning meeting." I ask them to help me think through what needs to be explained, what needs to be proved (validated), and what needs to be applied in the text that I am preaching.
Thursday, I finalize the outline and write either a manuscript or a detailed outline.
Ideally, I am done by Thursday evening since Friday is my day off. But if the sermon has not come together (which happens about 50% of the time), then I finish it on Saturday morning.
In any case, I come back to it on Saturday night. I read through it, pray through it, and try to get a good night's sleep!
Average numbers of prep hours per sermon?
15–18 hours.
What's your best time-saving trick?
Starting early!
I can prepare a sermon in less time if I spread the preparation out over several days. I would rather have an hour each day, Monday through Friday (five hours), than ten hours on Saturday. It takes down time for my mind to make some of the connections and think through some of the issues that are troubling me about the text I'm preaching.
What time of the day are you most effective?
Mornings!
I tend to schedule meetings or answer email in the afternoons.
Any props used regularly in sermons? PowerPoint? Handout?
PowerPoint in about half of my sermons, mostly for images, not words.
I want people to remember a big idea, not an outline. So I don't put fill-in-the blank outlines on my Powerpoint slides.
I want PowerPoint to supplement rather than to dominate my sermons. There has to be a trust in the spoken word.
No notes/some notes/extensive notes (manuscript)?
No notes. Haddon Robinson forced me to do this in a preaching class I took from him.
I always write the big idea of a sermon at the top of the page of the text I'm preaching, and I will put one word reminders in the margin or underline words or phrases I want to discuss. The details tend to remember themselves.
What enables me to preach without notes is a simple, clear outline and a manuscript (or a very detailed outline). I used to prepare complete manuscripts for all of my sermons. Now, I often write out the introduction, conclusion, and key sections, and a detailed outline for the rest. I don't try to memorize my manuscript. Rather, I internalize it. By reading it through a couple of times on Saturday evening, it's there in my memory on Sunday morning.
How has your preaching improved over time?
I think I'm better at relating the text to people's lives because I have more life experience in my rearview mirror.
I don't want people leaving thinking, "I have to try harder." I want them to understand that the effort which Scripture calls them to put forth is only possible because of the power of the Holy Spirit who indwells them.
Are you more of an introvert or an extrovert?
I am somewhere in the middle.
But the older I get, the more time alone I need to get re-energized. So I suppose I lean more towards introversion.
What are you currently reading?
George Whitefield: America's Spiritual Founding Father by Thomas Kidd.
The High Divide: A Novel by Lin Enger.
Can We Still Believe the Bible by Craig Blomberg.
Linguistics and Biblical Hebrew edited by Walter Bodine.
Privilege the Text! by Abraham Kuruvilla.
Exercise routine? Sleep routine? 
This is a battle for me. I try to keep some margins in my life, but when I let my schedule get too full, exercise can be the first thing to go.
I recently rejoined a gym so that I can spend at least an hour four times a week doing cardio and weights.
I go into my office an hour earlier and then take an hour and a half off mid-afternoon so that I'm spending the least productive time of my day (for thinking) on exercise.
I don't seem to require as much sleep as I used to. If I get seven hours, that is sufficient (10:30–5:30).
Spiritual disciplines?
I believe that devotion to the Word and prayer lies at the heart of pastoral ministry. Maybe that's why it is such a struggle to be consistent, particularly with prayer. I do better at Bible reading.
I alternate between reading through the Bible in a year and digging deeper into particular books.
I try to set aside particular time for praying. I like long, wandering prayer! Yes, I pray better when I am walking and talking to the Lord. My favorite place to pray is the worship center of our church facility. I wander up and down the aisles when no one is around, and I'll stop to kneel or bow before the Lord. Sometimes I sing hymns.
One of the most helpful tools in my prayer life apart from the Bible and its prayer is The Valley of Vision: A Collection of Puritan Prayers & Devotions.
Other disciplines: Sabbath rest, generosity, corporate worship, and journaling.
Favorite food?
Pizza! It's one of the four basic food groups, right?
I also like prime rib and seafood.
What you do when you aren't involved in preaching-related activities?
My favorite hobby is fly fishing for trout (one week a year in Montana!).
Watching sports: my youngest son plays college football for the University of North Dakota.
I'm also an avid fan of the St. Louis Cardinals.
My wife and I enjoy watching plays in venues like Chicago's Lyric Opera House.
Fill in the blank. I'd love to see _______ answer these same questions.
Scott Wenig, of Denver Seminary.
What's the best advice you've ever received?
Several years ago, Eugene Lowry offered this piece of advice in his book, The Sermon: "Quit at a point of frustration."
That way, your mind will be working to make connections while you are eating a meal or relaxing with your family. The next morning when you come to your study, you'll be surprised about how the solution will be apparent.
Editor's Note:
Steve's writings on preaching are worth tackling. Here they are:
The Art of Preaching Old Testament Narrative.
Preaching the Four Gospels with Confidence.
Preaching the Hard Words of Jesus.
Chapter in Text Message: The Centrality of Scripture in Preaching.
Chapters in The Art and Craft of Biblical Preaching.
Chapter in Models for Biblical Preaching: Expository Sermons from the Old Testament.
[For the archives of this series, How I Preach, see here.]