Stink!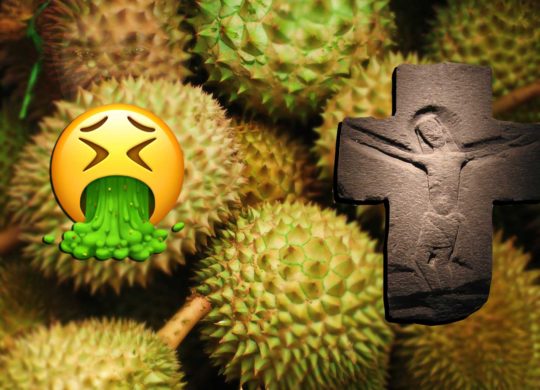 Jakarta-bound Sriwijaya Air flight was delayed the other day at Bengkulu in Sumatra, Indonesia.
The reason? Passenger complaints about an overpowering stench.
The culprit: Two tons of the thorny fruit called durian in the cargo hold.
Durian is common in Southeast Asia and distinguished by its strong stink that evokes, usually, disgust. Raw sewage is what it smells like, resulting in it being banished from most hotels and public transportation in that part of the continent.
Comments food writer Richard Sterling:
Its odor is best described as…turpentine and onions, garnished with a gym sock."
Scientific analyses have discovered numerous volatile compounds and several sulfurous compounds in the aroma of the durian, but no one really knows what causes its distinctive stench. In fact, it is so strong it can be detected half a mile away by animals. Some of them consider the fruit extremely appetizing, including, I am told, deer, pigs, bears, orangutans, elephants, and even carnivorous tigers. For many reasons, then, one should probably avoid durian fastidiously.
In any case, there it was, two tons of the good stuff, sitting in the airline. The passengers weren't happy at all and began arguing with the crew, almost coming to blows with flight attendants.
Passenger Amir Zidane reported on Facebook:
When I entered the plane, I could already smell the scent of durian. I complained to the flight attendants, but they told me to just fill up a complaint form. Unsatisfied, I yelled at the other passengers, 'Who on this plane wants to fly?' They all chanted back, 'Not us!'"
Retri Maya, Sriwijaya Air senior corporate communications manager, insisted:
It is not illegal to transport durian as long as it is wrapped properly in accordance with flight regulations—carried inside the hold. Many airlines do this."
Maybe, but Sriwijaya still had to back down and remove the offending fruit. The plane then took off, over an hour late.
Airport staff in Bengkulu have promised to review durian transport procedures before assaulting passengers' olfactory nerves in the future.
There is something to be said for not being obnoxious to others.
Especially to the One who matters, God himself, Creator of the universe.
Our lives are to be fragrant, reflecting the aroma of the life of the perfect One, Jesus Christ.
Therefore be imitators of God, as beloved children; and walk in love,
just as Christ also loved you and gave Himself up for us,
an offering and a sacrifice to God as a fragrant aroma.
Ephesians 5:1–2
So also our prayers, a pleasing scent:
May my prayer be counted as incense before You;
The lifting up of my hands as the evening offering.
Psalm 141:2
And our offerings to God, a sweet perfume:
"Make an offering by fire to the LORD, a burnt offering or a sacrifice to fulfill a special vow,
or as a freewill offering or in your appointed times,
to make a soothing aroma to the LORD …."
Numbers 15:3
And thus the community of God's people becomes acceptable to God.
"For on My holy mountain, on the high mountain of Israel," declares the Lord GOD,
"there the whole house of Israel, all of them, will serve Me in the land;
there I will accept them and there I will seek your contributions
and the choicest of your gifts, with all your holy things.
As a soothing aroma I will accept you when I bring you out from the peoples
and gather you from the lands where you are scattered;
and I will prove Myself holy among you in the sight of the nations."
Ezekiel 20:40–41