Stuff!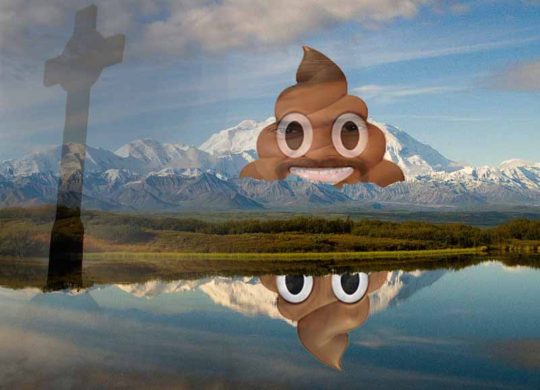 You wanna go to Denali (aka Mt. McKinley) in Alaska? Be careful. You might step into poop!
Michael Loso, a glacier geologist, recently calculated that 36,000 of the most intrepid, attempting to scale the peak in the seventy years between 1951 and 2012, have deposited up to 215,000 lbs of solid human waste, on to the Kahiltna glacier, on the way to the summit.
For those of you mathematically challenged, that's about 6 lbs per climber!
Apparently these brave folks catch their stuff in biodegradable bags and lob it into the deep crevasses of the glacier. Loso has found that the waste never reaches the bottom and never completely disintegrates.
The prospect of the waste reappearing downstream as stains on the glacial surface, in the otherwise beautiful wilderness landscape, is not appetizing."
I'll say!
Loso again:
It's the same thing as when your dog poops in the yard all winter. I'm always surprised in the spring when the poop is still there."
Blight on the beauty.
The brave man, Loso, also tested the mountain poop and found that even after a year, he could grow bacteria out of the waste! Which means that, beyond the problem of pristine mountains looking gross, there is a health issue at stake: climbers also get their drinking water by melting snow, which is—yup, you got it!—laced with excrement! Diarrhea at high altitudes means … more poop! What a mess!
So … new regulations are coming. If you want to poop in Denali, you are going to have to carry it back home with you, in "Clean Mountain Cans," a portable toilet invented by a Park Ranger—it looks like a coffee can.
(If you are stuck higher up on the mountain, yes, you may drop it off, but only in one designated crevasse, where a massive ice cliff can, they hope, pulverize the poop.)
Humans are messy!
Most things we vaunt ourselves with, are, in God's eyes, "dung"!
Here's one well-reputed Jewish rabbi of the first century proclaiming his credentials:
… circumcised the eighth day, of the nation of Israel, of the tribe of Benjamin, a Hebrew of Hebrews;
as to the Law, a Pharisee; as to zeal, a persecutor of the church;
as to the righteousness which is in the Law, found blameless.
Philippians 3:5–6
The man came to his senses later, when he found Christ.
But whatever things were gain to me, those things I have counted as loss for the sake of Christ.
More than that, I count all things to be loss in view of the surpassing value of knowing Christ Jesus my Lord,
for whom I have suffered the loss of all things, and count them but dung so that I may gain Christ.
Philippians 3:7–8
Another ancient voice from the eighth century B.C.E. declared:
For all of us have become like one who is unclean,
And all our righteous deeds are like a filthy garment;
And all of us wither like a leaf, And our iniquities, like the wind, take us away.
Isaiah 64:6
Our righteousness? Dung!
What we think is creditable, praiseworthy, remarkable, and notable, is all … dung!
Instead, we must, with that Jewish rabbi, seek righteousness from another source:
… gain Christ and may be found in Him, not having a righteousness of my own …,
but that which is through faith in Christ,
the righteousness which comes from God on the basis of faith.
Philippians 3:9
And cleansed we are, from all filth, by Christ's righteousness credited to us!
To the one who believes in Him … faith is credited as righteousness.
Romans 4:5
Clean, praise God!