Success?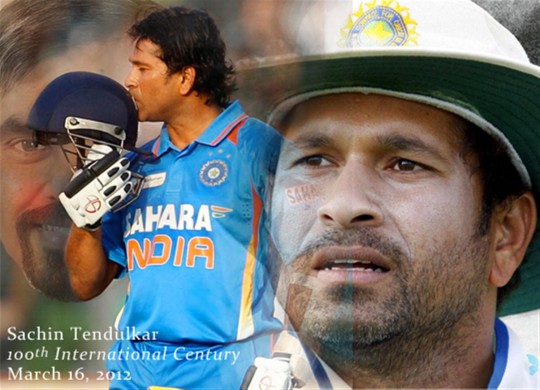 He did it again. Broke another record. This one is probably going to stand for a looooong time. Sachin Ramesh Tendulkar (IND) became the first batsman to score 100 international centuries (century = 100 or more runs in a single innings)! Playing Bangladesh last Friday, history was made. (The next highest run-getter is 29 centuries behind.) All said and done, Tendulkar has scored over 32,000 runs, an amazing feat.
And this guy is now 38 years old. Another amazing feat. Not many have continued playing international cricket at that age. And, of course, no one's been this good at 38. And Tendulkar began at 16. He's been playing internationally for about half of my life! (Five of his 100 100s he scored before he was 20! Another record!)
To get to this landmark was a struggle. Tendulkar got his 99th about a year ago, and went 33 innings after without getting to his 100th. On Saturday, the man revered as the cricket "god," admitted to the imminent 100th playing on his mind for a whole year. It was a weight that he was glad to get rid off. He said that it felt like he'd shed 50 kilos with the 114 runs he made last week. When asked about what lay ahead, Tendulkar was firm that he was not yet considering retirement; in fact, he noted that he was glad the milestone was "out of the way, so I can focus on the matches now."
The guy is an icon! He's everywhere in India—on billboards, on TV, in magazines, in newspapers. A brand. But unlike many who have hit stardom, pop status, and have a cult-like insane following, with a media circus never far behind, Tendulkar (at least thus far) has not been tainted. Always a gentleman, cherishing family and friends whose privacy he guards zealously, there has been no hint of scandal, no whisper of misdeed, no aspersions on character. No one disses him, no one has a bad word to say about SRT—team-members or opponents. A veritable cricket—nay, athletic—colossus, indeed!
So … last week, the man makes 114 for India.
But you know what? India still lost! They scored a total of 289 runs; Bangladesh beat them with 293. This, despite the Little Master's 100th 100!
He won. But his team lost!
I was thinking about this strange paradox. It must have been a odd feeling for Tendulkar, to have accomplished this ginormous feat that, IMHO, will probably never be replicated—only to be a part of the losing team.
It's the other way round for Christians. We lose … and often. We stumble and fall. We falter and fumble. We drop the ball, put our feet in our mouths, fall flat on our faces, and generally make a mess of life.
For all of us have become
like one who is unclean,
And all our righteous deeds
are like a filthy garment; …
And our iniquities, like the wind,
take us away.
Isaiah 64:6
We fail. Miserably.
But you know what? Our team will win. Because of Jesus Christ, our only God and Savior.
The Son of God appeared for this purpose,
to destroy the works of the devil.
1 John 3:8
And, paying the price for my sins, he bought my victory, and victory for all who believe in Jesus Christ and his redemptive work.
… we overwhelmingly conquer
through Him who loved us.
For I am convinced that [nothing] …
will be able to separate us
from the love of God,
which is in Christ Jesus our Lord.
Romans 8:37–39
We are victors!
Better than a million 100s!