Sued?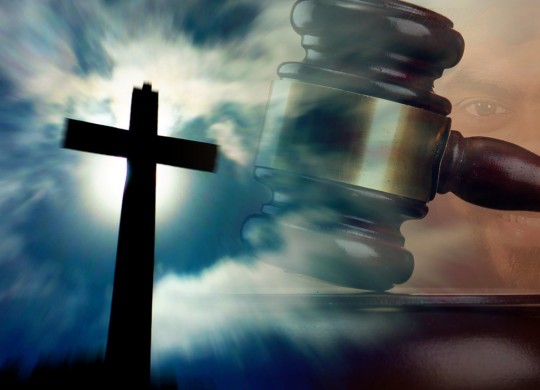 The sad (and odd) case of Barbara Bagley.
A few years ago, this Utah woman was driving her Range Rover on Interstate 80 when it apparently slid on sagebrush and flipped. Her husband was ejected from the vehicle, suffered major injuries, and died a couple of weeks later. One of the two dogs also inside the SUV died; the other, a Shetland sheepdog, Dooley, fled from the scene.
Bradley, herself, had a concussion, a few broken ribs, two punctured lungs, and one shattered wrist.
She is now both plaintiff and defendant in a wrongful death lawsuits. Ms. Bagley (as representative of her husband's estate), accusing herself of negligence in the accident, is seeking an unspecified amount of money in damages … from herself (as driver), for medical and funeral expenses, loss of future financial support, her husband's pain and suffering, and her own loss of his love and companionship. Bagley (estate rep) v. Bagley (driver).
Legal experts are excoriating their scalps trying to figure it all out.
The case was dismissed by Utah's Third District court last year. But the Utah appeals court has now reinstated it in a 3–0 decision, agreeing with Bagley's definition that Bagley-driver is a separate legal entity from Bagley-estate rep.
It all stands on the meaning of "another." Utah's wrongful-death law permits heirs or personal representatives of the deceased can sue when death is caused "by the wrongful act or neglect of another." Bagley-driver's defense argued that "another" means that heirs or personal representatives cannot sue themselves if they caused the death. The appeals court disagreed. "Another," according to them, simply means someone other than the deceased. Bagley-estate rep, therefore, can sue Bagley-driver.
I pity the jury.
Defense hasn't decided yet whether to appeal to the Utah Supreme Court.
I don't know of anyone else suing oneself, but I do know of one who was both Judge and Defendant in the same case.
Here's the Judge exercising his judicial authority:
And I saw the dead, the great and the small, standing before the throne,
… and the dead were judged … every one of them according to their deeds. …
And if anyone's name was not found written in the book of life,
he was thrown into the lake of fire.
Revelation 20:12–13, 15
For the wages of sin is death ….
Romans 6:23
And here's the (innocent) Defendant paying the price:
And He Himself bore our sins in His body on the cross,
so that we might die to sin and live to righteousness;
for by His wounds you were healed.
1 Peter 2:24
For the wages of sin is death,
but the free gift of God is eternal life in Christ Jesus our Lord.
Romans 6:23
Bagley-driver is being represented by her insurance company that doesn't want to pay up. One legal expert thinks the whole shenanigan is an attempt by Bagley-estate rep to collect on an insurance payout. Said Shima Baradaran, a University of Utah law professor
So basically she's suing herself so that the insurance recovery can follow—rare and pretty ludicrous."
No such ulterior motive in that cosmic Judge-Defendant case. Just … love.
"For God so loved the world, that He gave His only begotten Son,
that whoever believes in Him shall not perish, but have eternal life."
John 3:16
He became sin, who knew no sin
That we might become His righteousness;
He humbled himself and carried the cross!
Love so amazing, love so amazing!
Jesus Messiah, name above all names,
Blessed redeemer, Emmanuel!
The rescue for sinners, the ransom from Heaven,
Jesus Messiah, Lord of all!
Chris Tomlin (2008)