Surrender!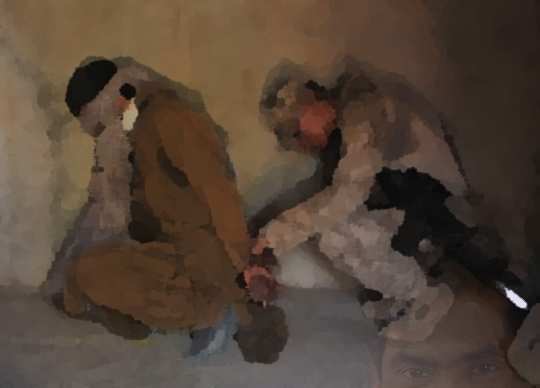 The oddest thing happened the other day.
Usually, the capture of a Taliban commander calls for expending vast resources, maintaining constant vigilance, and conducting complex operations.
Not for Mohammad Ashan, a mid-level Taliban honcho in Paktika province of Afghanistan. The man was wanted on suspicion of plotting attacks on Afghani security forces. Officials  peppered the locality with wanted posters with his name and picture.
Well, Mr. Ashan, our man himself, last week, made his way to a police checkpoint carrying one of these posters. Turning himself in, he demanded the finder's fee promised on the poster: $100.
Of course, he was arrested on the spot. U.S. troops arrived to confirm Ashan's identity.
"We asked him, 'Is this you?' Mohammad Ashan answered with an incredible amount of enthusiasm, 'Yes, yes, that's me! Can I get my reward now?'" recalled SPC Matthew Baker.
A biometric scan confirmed that the guy was indeed, Ashan, the man on the "Wanted!" poster.
Such posters are standard operative measures undertaken by NATO forces, but rarely have they had such a remarkable effect. Civilians are generally scared of being informants, for fear of reprisals. And the wanted malefactors, not surprisingly, are reluctant to stroll over to police checkpoints with their own "Wanted!" posters in hand, to aid identification.
But, hey, for $100 ….
What would it take for one to surrender, to give oneself up?
In fact, even in God's economy, that is the first step of salvation. Recognition of one's sins, the fact that one is a sinner.
That is a basic fact of life: unless patients agree that they are ill, they won't go to a physician, and even if they do, they will not follow the physician's recommendations.
And so also with the Great Physician.
Jesus said to them,
"It is not those who are healthy who need a physician,
but those who are sick;
I did not come to call the righteous, but sinners."
Mark 2:17
Of course, it is subtly implied here, that there is no one who is healthy and does not need the touch of the divine healer.
There is none righteous, not even one.
There is none who does good, there is not even one.
For all have sinned and fall short of the glory of God.
Romans 3:10, 12, 23
This is the state of the human race, with no one exempted.
And the consequence?
But your iniquities have made a separation
between you and your God,
And your sins have hidden His face from you.
Isaiah 59:2
So this is the first step: the recognition of one's own sin and the separation from God it has caused.
So where's the "reward"? The $100?
It's worth far more than that, believe me.
For God so loved the world,
that He gave His only begotten Son,
that whoever believes in Him shall not perish,
but have eternal life.
John 3:16
And this eternity of life in the presence of God may be obtained as a free gift by all who believe in Jesus Christ as their only God and Savior from sin.
The one who …
… died for sins once for all, the just for the unjust,
so that He might bring us to God.
1 Peter 3:18
And on the cross, He paid the price of our sins.
All of us like sheep have gone astray,
Each of us has turned to his own way.
The LORD has caused the iniquity of us all
To fall on Him.
Isaiah 53:6
Way better than $100. Life with God. Now and forever.
Not a bad idea, turning yourself in!