Teddy!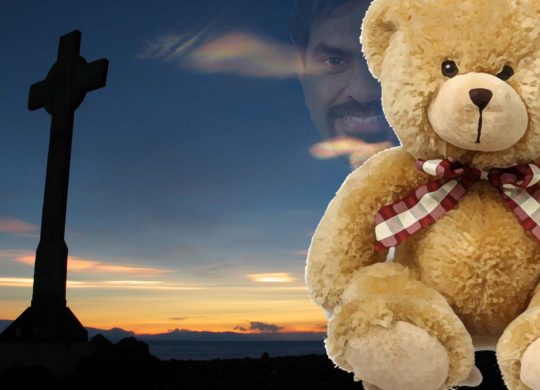 Apparently National Teddy Bear was on September 9.
So the popular custom Teddy Bear outlet, Build-A-Bear Workshop, commissioned a survey by a third party, Atomik Research Group. 2,004 adults were queried. And 40% of them confessed to having their favorite stuffed animal by them as they go to bed.
Four in ten Americans.
And many of those furry buddies leftovers from their childhood days. More than half acknowledged possession of a keepsake stuffed animal for more than 20 years. And over 70% declared they'd never get rid of the beast.
Said clinical psychologist, Shefali Tsabary:
As children develop independence from their parents, they still yearn for a secure bond with something. In many cases, children turned to stuffed animals, including teddy bears, to help them through this transition. As we enter adulthood and leave home for the first time, it's not surprise that the same object re-enters our life, providing comfort while also helping us work through feelings of uncertainty as we transition into a new life stage."
And CEO of Build-A-Bear, Sharon Price John, said this:
At Build-A-Bear, we believe wholeheartedly that you're never too old for a teddy bear, and we love that more than 25 percent of Build-A-Bear shoppers are 12 and older. It's also fun to see older Guests incorporating teddy bears and other furry friends into the celebration of everyday and extraordinary moments in life – from birthdays and engagements to prom-posals. This National Teddy Bear Day, we hope the results of this survey and our exciting in-store and online offers empower people of all ages to go get that favorite teddy bear from childhood that's been hiding in the closet, or make a new furry friend to cherish for years to come."
30% percent said that the animal brings them comfort. 22% thought of the person who had gifted them that toy.
75% of adults in the Southern US admitted owning a Teddy Bear; 72% of those in the Midwest; and 70% of those in the Northeast). For what it's worth: about 25% of those adults surveyed had children aging between 5 and 10.
You interested? Bulid-A-Bear customers go through an interactive process and you can get a stuffed animal of your choice styled and customized for you in their store.
May not be a bad idea. They say more than 30% of Americans suffer from insomnia, with women twice as likely as men to have that affliction. This includes 90% of those who are depressed. About 10 million use prescription sleep aids. And in the past year, 60% of people have driven feeling sleepy, with 37% admitting to have fallen asleep doing so. National Highway Traffic Safety Administration reports that 100,000 vehicle accidents a year occur due to drowsy driving, with 1,500 fatalities. And, according to the US Surgeon General insomnia costs the government more than $15 billion per year in health care costs!
Who knew?
There might be organic causes of insomnia, of course, but it helps to realize that God is in charge.
In peace I will both lie down and sleep,
For You alone, O LORD, make me to dwell in safety.
Psalm 4:8
Indeed, staying up is unfruitful.
It is vain for you to rise up early, To retire late, To eat the bread of painful labors;
For He gives to His beloved even in his sleep.
Psalm 127:2
In fact, we are specifically told that only one Person needs to stay awake all the time. And He does:
He will not allow your foot to slip; He who keeps you will not slumber.
Behold, He who keeps Israel Will neither slumber nor sleep.
Psalm 121:3–4
So, sleep tight!