Thanks!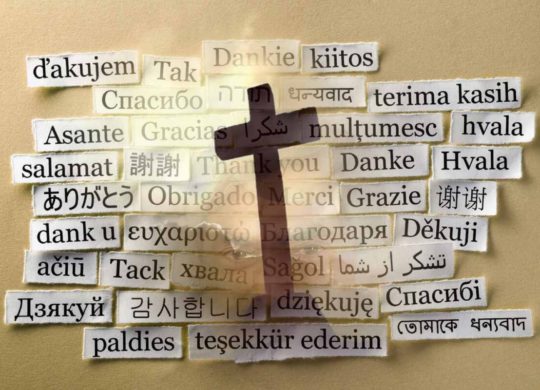 "Universals and Cultural Diversity in the Expression of Gratitude," published recently in Royal Society Open Science, had some interesting things to say about thankfulness.
Here, we ask to what extent people express gratitude in different societies by focusing on episodes of everyday life where someone seeks and obtains a good, service or support from another, comparing these episodes across eight languages from five continents."
They studied the following languages: Cha'palaa (Ecuador), English, Italian, Lao, Murrinhpatha (N. Australia), Polish, Russian, and Siwu (Ghana). The researchers examined 1,057 sequences of requests (like "Pass the salt") and responses. 129 times the request was denied. 928 times the "requestee" fulfilled the request. And it wasn't just "Thank you," that they were looking for. Even responses like "Sweet," or "Great," were taken as tokens of gratitude—"any positive conveyance of appreciation or satisfaction by the requester immediately after obtaining assistance or collaboration." In Murrinhpatha, this included phrases such as "Yukuy murruwurInyima", which translates as "That's right, you're beautiful."
The overwhelming tendency towards fulfilment of requests was consistent across languages, showing a general, cross-cultural norm supporting assistance and collaboration."
That the requests were met 88% of the time was striking, but even more so were the numbers that reciprocated with thanks.
Expressions of gratitude are very infrequent in all languages, occurring an average of just 5.5% of the time (n = 51/928)."
Cha'palaa had the lowest frequency (0%, n = 0/96), and English the highest (14.5%, n = 18/124).
Here is the authors' speculative conclusion:
We find that, in informal everyday interaction across the world, the general norm is to tacitly acknowledge another's cooperative behaviour without explicitly saying 'thank you', but by simply continuing with one's activities, relying on a shared understanding of the good, service or support received as part of a system of social rights and duties governing mutual assistance and collaboration."
Apparently, it's part of one's duty to help out, therefore there is no need of any overt statement thanks. Across cultures, people seem to take it for granted that everyone will cooperate with everyone else, so much so saying thanks is no longer needed. In fact, Cha'palaa has no conventional way to say "Thank you!" (Like the artificial language of the horse-mounted, nomadic Dothraki on the popular television show Game of Thrones.)
But, warns Nick Enfield, lead researcher from the University of Sydney, …
This doesn't mean that people are universally rude, nor that speakers of English are less rude than speakers of other languages. We should not conflate the feeling of gratitude with the act of expressing it."
In other words, just because "Thank you!" is not uttered doesn't necessarily mean the recipient of the act does not feel thankful.
So then why do people say "Thank you!" at all? Perhaps it is because we recognize the fulfillment of requests that go beyond the call of duty?
The Bible is clear about our response to God for his lovingkindness.
In everything give thanks; for this is God's will for you in Christ Jesus.
1 Thessalonians 5:18
Whatever you do in word or deed, do all in the name of the Lord Jesus,
giving thanks through Him to God the Father.
Colossians 3:17
Always [give] thanks for all things in the name of our Lord Jesus Christ to God, even the Father.
Ephesians 5:20
Most of all …
Thanks be to God, who gives us the victory through our Lord Jesus Christ.
1 Corinthians 15:57
Thanks be to God for His indescribable gift!
2 Corinthians 9:15
Listen, even The Berenstain Bears Say Please and Thank You.
So … what do you say?
"That's right, you're beautiful."