Time!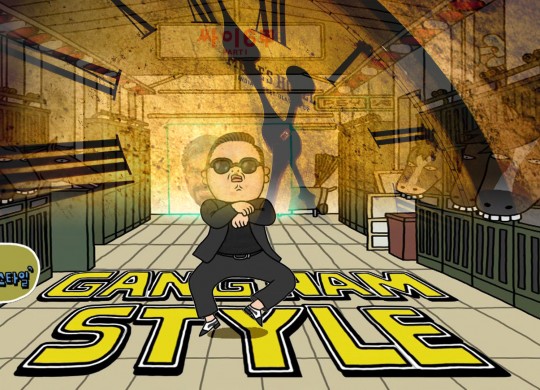 A few months ago, the music video "Gangnam Style" crossed two billion views on YouTube—the most watched video clip of all time!
For those like me still listening to Bach and Beethoven (or Beatles and the Beach Boys) an education is in order.
First, you need to know about the Korean Wave, the increasing popularity of (South) Korean culture since the 1990s. Though most of this growth is in Eastern and Southeastern Asia, teenagers and young adults in Latin America, the Middle East, and South Asia (India) are fast being soaked in the wave.
And you should also know that an integral part of the Korean Wave is K-Pop (Korean popular music), a genre of music associated with audiovisuals, the sound mostly being a mind-bending amalgam of dance-pop, electronic, rock, R&B, and hip-hop music.
(Korean Wave also includes K-dramas, the Korean language, Korean high-tech, Korean cars, animated comics/films, and Korean cuisine [to the last, I say: Bring it on! It's terrific—kimchi, doenjang, HOT gochujang, and the varieties of galbi, among other wonderful gastronomic delicacies, not to mention fish waffles—no, it's not what you think it is! Yup, I've succumbed to the K-wave!])
Which brings us to Psy. This is the stage name of 37 year-old Park Jae-sang, singer, songwriter, rapper, dancer, producer of all things in a comedic style. And this dude produced (and sang and danced in) aforementioned video, "Gangnam Style."
The phrase indicates the trendy and hip lifestyle of the Gangnam District of Seoul.
People who are actually from Gangnam never proclaim that they are—it's only the posers and wannabes that put on these airs and say that they are 'Gangnam Style'—so this song is actually poking fun at those kinds of people who are trying very hard to be something that they're not."
So there's Psy, parodying "Gangnam Style" with an addictive rhythm, and performing dance moves that look like he's riding a horse, alternately trotting and galloping, and appearing to hold reins and spin a lasso. Or so I think.
"Gangnam Style" won the Guinness World Record for the most-liked video in 2012. Topping charts in over 30 countries that year, it has generated countless parodies and remixes. President Obama—to the embarrassment of his daughters—admitted he liked the video, and cited it as example of how the Korean Wave is sweeping the world. The British mega grocery chain and retailer, Tesco, reported doubling of its sales of Korean food, after the release of "Gangnam Style."
It's about 4:12 minutes long. At two billion views, that's about 140 million man-hours, about 16,000 man-years.(The closest rival is Justin Bieber's "Baby," that got a paltry one billion views.)
One culture commentator observed that the newest supercarrier USS Gerald Ford took only 50 million man-hours to build. We could have built about three of those in 140 million man-hours. Or four Great Pyramids of Giza. Or six Burj Khalifas in Dubai. Or another Wikipedia. Or twenty Empire State Buildings.
"Gangnam Style" is worth spending 4:12 minutes on, but … 140 million hours?
Alas, time is short.
As for the days of our life, they contain seventy years,
Or if due to strength, eighty years,
Yet their pride is but labor and sorrow;
For soon it is gone and we fly away.
So teach us to number our days,
That we may present to You a heart of wisdom.
Psalm 90:10, 12
Therefore be careful how you walk, not as unwise men but as wise,
making the most of your time, because the days are evil.
Ephesians 5:15
May we be wise with this precious God-given resource.