Trash!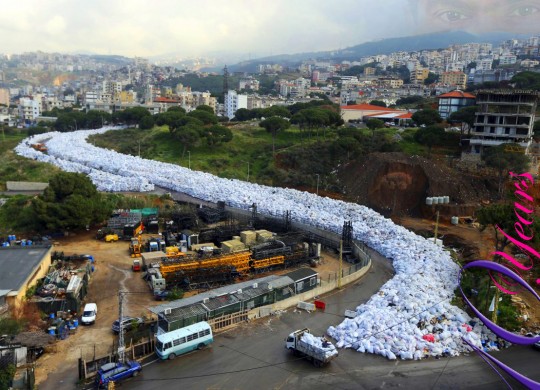 Yes, it's trash. All that white stuff—a river of trash!
The surreal sight snakes its way through the capital of Lebanon, Beirut, a blot and blight.
Two million tons of the bad stuff, stretching for a quarter mile through Jdeideh, a suburb of Beirut. This overflowing landfill is the result of Beirut's months-long garbage crisis, both an expression and a consequence of Lebanon's dysfunctional politics.
Said a local resident, Jawanah:
This used to be such a beautiful place, but look at it now. We can't even walk by it."
The authorities shut down the main landfill site for Beirut's garbage last year, but without providing another location for the refuse. So a makeshift dump began in a yard near residential buildings in Jdeideh, that has continued to grow into this "river."
Said one official, talking to the media.
Well, at least it is organized."
Yeah, right. Organized trash!
Violent protests against the government's negligence brought in a deployment of the army and water hoses to tame unruly citizens concerned about their health.
Rains, they fear, are flushing toxins into the ground water table. And who know what it will look like come summer and its heat. Not to mention the nasty sore it is for the eyes, and the ghastly stench that assaults the nostrils.
Which latter olfactory annoyance, by the way, spawned a new and popular protest movement directed against the current rulership. The movement is appropriately called: "You Stink!"
Demonstrator Karma Hamady elaborated:
This protest is about a government that can no longer sustain the basic needs of its people."
An agreement to transport the waste to Russia fell through.
Acknowledged Mona Kalot of Lebanon's Council for Development and Reconstruction:
We don't have a solution, but they're working on something else. I don't think it will be transferring the trash outside Lebanon."
The country is also grappling with a deteriorating water supply, a malfunctioningl electrical grid, lots of corruption at every level of government, and over a million Syrian refugees entering the country.
Problems with trash!
We have them, too, you and I. Our trash, our sins.
Yes, for believers in Jesus Christ, they don't stand between us and God for eternal life. That was taken care of once and for all, when Jesus Christ, God incarnate, died on the cross and rose on third day, paying the penalty for our sins.
He Himself bore our sins in His body on the cross,
so that we might die to sin and live to righteousness.
1 Peter 2:24
When we placed our trust in Christ as our only God and Savior from sin, a forensic (legal) forgiveness was accomplished, of our sins past, present, and future. And we became children of God.
But we still sin! We fumble, we fall, we fail!
If we say that we have no sin,
we are deceiving ourselves and the truth is not in us.
1 John 1:8
So what do we do … with our trash?
That's where 1 John 1:9 comes in real handy:
If we confess our sins, He is faithful and righteous to forgive us our sins
and to cleanse us from all unrighteousness.
1 John 1:9
This is filial (of a child) forgiveness, for those who, as believers and children of God, have already received forensic forgiveness. Whether or not the child seeks this forgiveness does not change the filial status of the child in the eyes of the Parent, but clearing the account does help the relationship between them.
So, child of God, banish those rivers of trash!