Tree?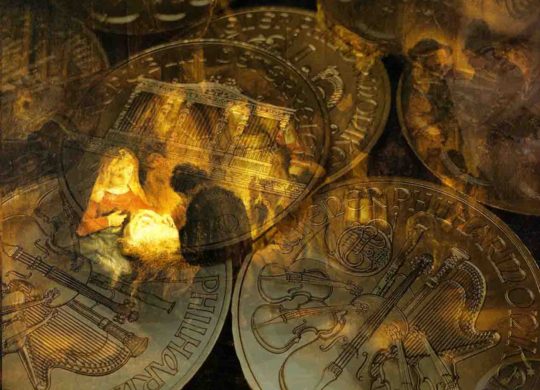 Ginza Tanaka, a renowned precious metal store in Japan, is now in its 125th year.
Says, its PSA:
Going forward, it will continue to pursue possibilities for its distinctive precious metal ornaments with a fixation on quality that has been passed down the generations since its foundation, without forgetting to be continuously grateful toward the many people who have supported the company over its 125 years."
Ginza has a tradition of making expensive Christmas trees. Make that "exorbitant, extravagant, excessive, exclusive Christmas trees."
Made of gold.
A few years ago, their pure gold revolving tree was made of 88 lbs of the good stuff. About 7½ feet tall and 4 feet wide, it was decorated with pure gold plate silhouette cutouts of 50 popular Disney characters: Mickey Mouse, Tinker Bell, Cinderella, et al.
Only $4.2 million.
Proclaimed Tomoko Ishibashi, of the marketing department fo Ginza Tanaka:
But the ornament is actually a deal. Right now [a few years ago] gold is over 4,400 yen [$38 ] per gram. We used pure gold and had an expert craftsman form each Disney character by hand, and took two months to complete."
Right, a deal!
Said Takahi Miura, a jeweler there:
It is very vivid and the gold is very pretty. The characters on it are also really cute and it really looks like a Christmas tree."
For those who didn't want to shell out $4.2 million, there was a scaled down version, with only 20 Disney characters, and only about 25 cm tall. You could have gotten it for a measly $243,000, if it hadn't sold out rapidly.
2017 is the 13th year such a tree is displayed. This year's offering from Ginza Tanaka was no less striking. The Christmas tree for 2017 is made with 2017 Vienna Philharmonic coins issued by the Austrian mint and is on display at the Ginza Tanaka main store in Tokyo. You can see it if you can get there by Monday, December 25, 17:00 hours JST.
About 10 feet all, and 5 feet wide, it has 2016 one-ounce Vienna Philharmonic coins—legal tender, BTW, and guaranteed by the Austrian government to be 99.99% pure. It is the most commonly-purchased gold coin in Japan. The coins on the tree were placed individually by hand on to a transparent acrylic square pyramid; a one 20-ounce coin tops out the structure within a star-shaped decoration. The pyramid's design reflects the Goldener Saal (Golden Hall) of the Musikverein Wien, the home of the Vienna Philharmonic and noted for its incredible acoustics. The tree itself rotates, letting the Gold Philharmonic coins sparkle and shine.
63 kilograms of pure gold. ¥350 million. US$ 3.1 million.
No such extravagance for the One for whom Christmas is named.
As Jesus, himself, said:
"The foxes have holes and the birds of the air nests,
but the Son of Man has nowhere to lay His head."
Matthew 8:20
In fact, the first Christmas was far, far from these kinds of excesses and exorbitances.
Why lies He in such mean estate,
Where ox and ass are feeding?
Good Christians, fear, for sinners here
The silent Word is pleading.
Nails, spear shall pierce Him through,
The cross be borne for me, for you.
Hail, hail the Word made flesh,
The Babe, the Son of Mary.
What Child is this who, laid to rest
On Mary's lap is sleeping?
Whom angels greet with anthems sweet,
While shepherds watch are keeping?
This, this is Christ the King,
Whom shepherds guard and angels sing;
Haste, haste, to bring Him laud,
The Babe, the Son of Mary.
William Chatterton Dix, 1865
Praise God, Jesus came. He came … to die!