Union?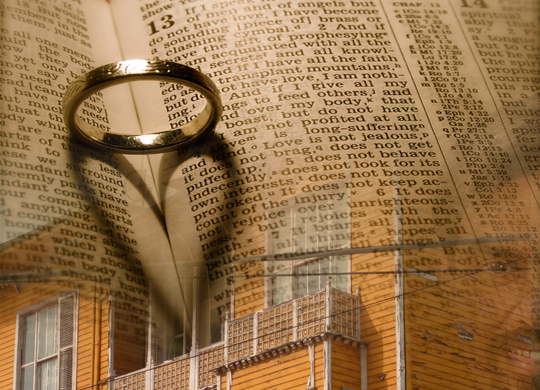 Yet another interesting development from this strange world that is occupied by some strange people (which, needless to say, includes strange you and strange me).
Seattle. December 2011. An abandoned warehouse was scheduled to be demolished to make space for a new construction, an apartment complex.
Babylonia Aivaz decided this was going too far and took action. She and 16 likeminded compatriots occupied said abandoned warehouse on 10th and Union, protesting the development.
"Gentrification is happening," Aivaz declared. "It's a serious issue that affects poor people and especially people of color and this is just the beginning of the fight."
With that, she took the drastic step of exchanging wedding vows with—get this!—this abandoned warehouse.
("Exchange" is probably not the best description for Aivaz's unabashed marital undertaking—it was clearly one-sided, with said ab. warehouse remaining ominously silent throughout the venture.)
Aivaz called it, for some reason, a "gay marriage."
She pledged her troth to the edifice in the of presence a minister who asked if Miss Aivaz would "love and cherish and protect this warehouse."
The proud bride, all clad in white, holding a cardboard sign that read "Stop Gentrification" instead of the customary bouquet, reportedly said "I do," and proceeded to spout forth poetry.
This is biblical. Adam did the same thing when he saw Eve. He broke out into verse. Check your Bibles, y'all.
The man [aka Adam] said,
"This is now bone of my bones,
And flesh of my flesh;
She shall be called Woman [aka Eve],
Because she was taken out of Man."
Genesis 2:23
(Now you know why I'm single: I'm not a poet.)
Anyhow, Aivaz responded with a Cat Power song, "Sea of Love."
Come with me my love
To the sea, the sea of love
I want to tell you
How much I love you

Do you remember when we met
That's the day I knew you were my pet
I want to tell you
How much I love you.
She added some lines of her own:
Do you remember when we met?
I cleaned your rooms and washed your floors,
built community, opened some doors.
You changed my life.
I'll never forget the day we met.
I'll cherish your community sprit until the day I die.
Following the "exchange of vows," a large banner with "I do!" was hung on the outside of said ab. warehouse and the 50-odd attendees sang Bill Withers' "Lean on Me." Go figure!
And there were protesters on the scene as well—two of them. This pair came objecting to Aivaz's use of the term "gay marriage" in a nuptial event involving a building!
Despite Babylonia Aivaz's exertions, demolition began … ahead of schedule. Aivaz is now a "widow." And said ab. warehouse is now the late lamented and deceased.
No question, the biblical model of marriage is the best one, proposed in Genesis 2:24, reinforced by Jesus.
"'For this reason a man shall leave
his father and his mother,
and be joined to his wife;
and the two shall become one flesh.'
So they are no longer two, but one flesh.
What therefore God has joined together,
let no man separate."
Matthew 19:5–6
And, no question, the biblical statement of the roles of husband and wife remains the best description of their responsibilities.
As the church is subject to Christ,
so also the wives ought to be
to their husbands in everything.
Husbands, love your wives,
just as Christ also loved the church
and gave Himself up for her.
Ephesians 5:24–15
And on that theme of God-ordained marital union, here's wishing all mothers a Happy Mother's Day!