Violence!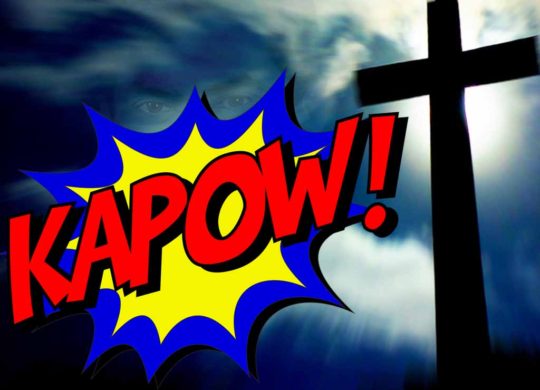 Superheroes wield special powers to protect us from villainous knaves. And these characters idolized by young viewers send a strong message about good and evil.
But there's a downside to this protection racket.
In "Violence Depicted in Superhero-Based Films Stratified by Protagonist/Antagonist and Gender," a paper presented at this year's American Academy of Pediatrics National Conference in Orlando, researchers find that, on average, the "good guys" are engaging in more violence than the "bad guys"!
Researchers analyzed ten superhero films released in 2015 and 2016 with a standardized tool to compile specific acts and types of violence in movies. Each film was independently viewed and scored by five reviewers. Data analysis included quantifying specific acts of violence (mean events per hour), then stratified by "good guy"/"bad guy" and gender.
In total, the authors counted 2,191 acts of violence by the "good guys" across the 10 films, and 1,724 from the "bad guys." That comes to an average of 23 acts of violence per hour of film time perpetrated by the "good guys" and only 18 per hour by the "bad guys."
[Incidentally male characters, whether "good" or "bad" committed five times as many violent acts (34 per hour) than female characters—"good" or "bad" (7 per hour).]
The most common violent acts by "good guys" were fighting (1,021 instances), use of a lethal weapon (659), destruction of property (199), murder (168), and bullying/intimidation/torture (144). For "bad guys," the most common violent act was the use of a lethal weapon (604 instances); then fighting (599), bullying/intimidation/torture (237), destruction of property (191), and murder (93).
Remarked lead author, Robert Olympia, MD, Professor in the Departments of Emergency Medicine & Pediatrics at Penn State College of Medicine:
Children and adolescents see the superheroes as 'good guys,' and may be influenced by their portrayal of risk-taking behaviors and acts of violence."
One of the authors, John N. Muller, a medical student, suggested:
Co-viewing these movies as a family can be an effective antidote to increased violence in superhero-based films. In passively co-viewing violent media, there is an implicit message that parents approve of what their children are seeing, and previous studies show a corresponding increase in aggressive behavior. By taking an active role in their children's media consumption by co-viewing and actively mediating, he said, parents help their children develop critical thinking and internally regulated values."
The Bible has uniformly deprecated violence as unbefitting the people of God.
Do not envy a man of violence And do not choose any of his ways.
Proverbs 3:31
Indeed, the list of characteristics that mark a leader of God's people includes nonviolence:
… not pugnacious, but gentle, peaceable.
1 Timothy 3:3
So much so, God's people do not respond in kind to violence.
Never pay back evil for evil to anyone.
Respect what is right in the sight of all men.
If possible, so far as it depends on you, be at peace with all men.
Never take your own revenge, beloved, but leave room for the wrath of God,
for it is written, "Vengeance is mine, I will repay," says the Lord.
"But if your enemy is hungry, feed him, and if he is thirsty, give him a drink;
for in so doing you will heap burning coals on his head."
Do not be overcome by evil, but overcome evil with good.
Romans 12:17–21
And of a future day in his kingdom, God said:
"Violence will not be heard again in your land,
Nor devastation or destruction within your borders;
But you will call your walls salvation, and your gates praise."
Isaiah 60:18
Amen! May that day come soon!