Volunteer!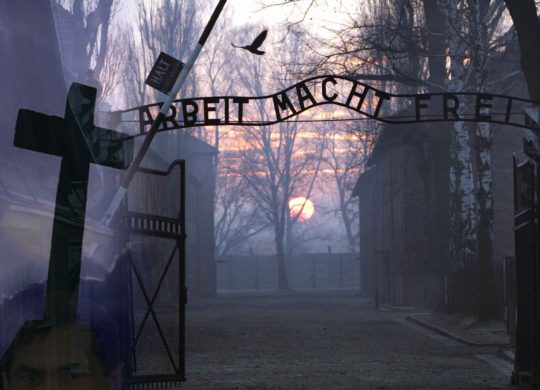 Poland, 1939. Witold Pilecki was married, husband to Maria, and father to two children. A farmer, an amateur painter, a volunteer for Christian charities. But things would not be peaceful for long. Hitler invaded Poland on September 1. Pilecki and a friend cofounded the Tajna Armia Polska (Secret Polish Army), a resistance force largely underground, carrying out raids against both the Nazis and the Soviets.
The guy comes up with an incredible and daring plan. He planned to get arrested by the Nazis, and to be thrown into the concentration camp at Auschwitz. His goal? To form a resistance group from inside and be a conduit for information about the brutality inside to the outside world. On September 19, 1940, he bid his family goodbye and with forged papers walked into a Nazi roundup. Pilecki became Auschwitz inmate No. 4859.
Writes Laurence Reed in Real Heroes:
Fired by a determination that almost defies description, Pilecki made the most of every opportunity during his thirty-month imprisonment at Auschwitz. Despite bouts of typhus and pneumonia, lice infestations, stomach ailments, backbreaking toil hauling rocks, extremes of heat and cold, relentless hunger, and cruelties at the hands of German guards, he formed an underground resistance group, the Union of Military Organization (Związek Organizacji Wojskowej, or ZOW). … Using a radio transmitter that he and his fellow ZOW conspirators built, in 1942 he broadcast information that convinced the Allies the Nazis were engaged in genocide on an unprecedented scale. What became known as 'Witold's Report' was the first comprehensive eyewitness account of the Holocaust."
Pileck would later say:
The game which I was now playing in Auschwitz was dangerous. This sentence does not really convey the reality; in fact, I had gone far beyond what people in the real world would consider dangerous."
An understatement if there ever was one. A camp with 7,000 Nazi SS troops, each with life-and-death power over inmates. A hell. Over two million died there: eight thousand a day gassed, others dying of starvation, disease, hard labor, and medical experimentation.
The Nazis got wind of Pilecki's activity, but he did what only 143 others have done in the history of Auschwitz. He escaped.
Reaching Warsaw, Pilecki continued his resistance work. But he was captured in May 1947, tortured, and executed.
His last words: "Long live free Poland!" He was forty-seven.
Today we celebrate another who also volunteered to go inside enemy lines. Not just to leak information. But to save us all who were in the grips of one far more evil than Hitler.
The Lord Jesus Christ, who gave Himself for our sins
so that He might rescue us from this present evil age.
Galatians 1:3–4
And the sad thing is that we were ourselves complicit in the evil of the anti-God, Satan, who had us in his camp.
And you were dead in your trespasses and sins,
in which you formerly walked according to the course of this world,
according to the prince of the power of the air, of the spirit that is now working in the sons of disobedience.
Ephesians 2:1–2
But God had mercy!
But God, being rich in mercy, because of His great love with which He loved us, …
raised us up with Him [Christ], and seated us with Him in the heavenly places in Christ Jesus. …
For by grace you have been saved through faith; and that not of yourselves, it is the gift of God.
Ephesians 2:4, 6, 8
And yes, this One, was executed, too.
But—praise God!—He is risen, He is risen, indeed!