Wallpaper?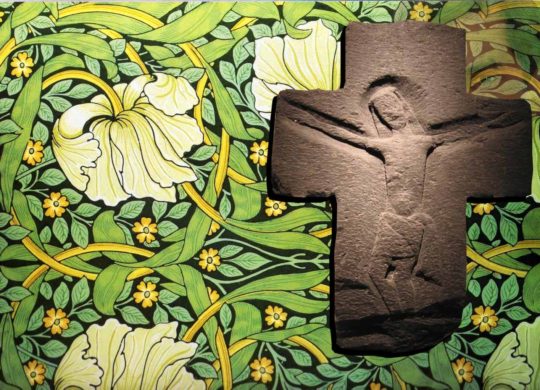 In 1862, Richard Turner, a bricklayer, and his wife lost all four of their children to a mysterious illness.
The first was thought to have suffered from diphtheria, and so was the second. Within days the third child died. When the fourth, Ann Amelia, began to display the same symptoms, Dr. Orton, one of Victorian London's distinguished physicians, was called in.
Orton's notes describe Ann Amelia "suffering from extreme prostration, racked with pain, and unable to swallow." All consistent with diphtheria, but none of their neighbors, in sardine-packed East London, were ill. Plus, diphtheria treatment hadn't worked on the other three Turner children.
Later, in a court hearing, Orton would testify that that he felt certain diphtheria was the wrong diagnosis. Neither was the Turners' home or neighborhood manifesting conditions injurious to health. However, he noted one thing in the Turners' house: green wallpaper. And recently, an odd theory had been roiling the medical community, that wallpaper was a killer!
Green wallpaper.
Because the vivid green used in Victorian wallpaper was derived from copper arsenite!
Days after Ann Amelia's death, a chemist at London Hospital, Dr. Letheby, found tissue samples from the girl were positive for arsenic. The children had died of arsenic poisoning!
At the inquest, Letheby caused a stir:
I have known two children die from arsenical poison imbibed while playing for a few hours daily in their father's library."
But the evidence did not convince the jury, which returned a verdict of "natural death." Despite the judge condemning the use of green wallpaper as "objectionable." The coroner declared:
I cannot refrain from expressing my entire dissent from the verdict."
But even letters in the press argued that it was impossible for green wallpaper to kill.
A growing medical campaign against the scourge was headed by Dr. Orton himself:
I have known a family of children sickening for a while; they have been sent into the country and got well. They have been brought home again, and again taken ill. The paper has been removed, and the sickness has ceased. A few days ago, in my own neighbourhood, a person, in cleaning her house, gently brushed over the green paper on the walls. In an hour or two she and her husband were seized with pains in the eyes and head, irritation about the upper lip and nostrils, and a sense of suffocation, so that they could not sleep all night. With these warnings, the matter now rests with the public."
Nonetheless, many doctors were skeptical, for not everyone in a house was afflicted in the same fashion, a fact later substantiated by science. Children are more susceptible to arsenic poisoning than adults/
(In fact, in Victorian Britain, fashionable women chose green dresses and wore artificial wreaths in their hair; trendy men wore green-waistcoats and cravats—all colored with arsenic-containing dyes. Some lickable postage stamps also had arsenic containing pigments. If that weren't enough, insecticides made of arsenic were sprayed on vegetables, and meat was dipped in arsenic to kill flies!)
Death lurks around every corner.
It does. Not just physical, but eternal, away forever from the presence of God.
For the wages of sin is death …
Romans 6:23a
All humans are therefore susceptible to death. But the only One who defeated death, rising from the grave, makes possible eternal life.
… but the free gift of God is eternal life in Christ Jesus our Lord.
Romans 6:23b
And so, all believers can echo:
"O death, where is your victory? O death, where is your sting?" …
But thanks be to God, who gives us the victory through our Lord Jesus Christ.
1 Corinthians 15:55, 57