Watched!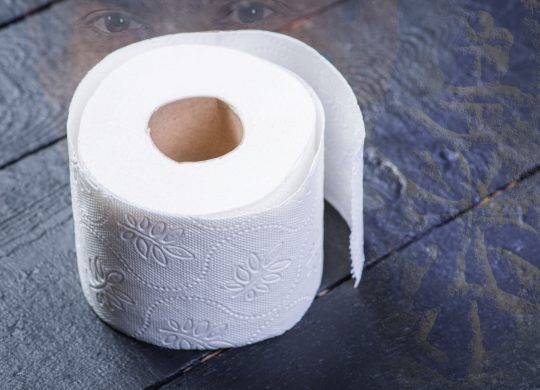 Apparently, until quite recently, the facilities of Beijing's Temple of Heaven, an imperial complex of religious buildings constructed in the early 1400s, carried toilet paper. Sadly, thieves began ruining things for everyone. The Beijing Evening News showed TP pilferers making off with rolls of the white stuff in backpacks.
Posters and broadcast messages on public announcement systems exhorting visitors to use less paper have been of no avail. TP keeps disappearing!
Finally, BBC reported, technology has taken over. Six machines in the public restrooms of the complex, placed at average heights for men and for women, dispense a two-foot-long strip of TP. But you have to have your face scanned by the machine first! "Look here three seconds," calls the machine. Then—poof!—there's your TP, only two feet, though.
Complained Wang Jianquan, a 63-year-old retiree:
The sheets are too short."
And, it also seems, the machines are too slow. Thirty seconds to dispense said two-foot strip.
Besides, the same person won't get a second allotment for—get this!—another nine (excruciating) minutes.
Explained a spokesman for the TP authorities:
If we encounter guests who have diarrhea or any other situation in which they urgently require toilet paper, then our staff on the ground will directly provide the toilet paper."
Oh, and staff is on hand to explain the technology, too.
(I did wonder if said paper dispensed a one- or two-ply version. But I digress!)
Marketing Director for the manufacturer, Shoulian Zhineng:
We brainstormed many options: fingerprints, infrared and facial recognition. We went with facial recognition, because it's the most hygienic way.''
But Jeremiah Jenne, an American historian teaching in Beijing, wasn't pleased:
Is there not a solution somewhere between 'put up a sign' and 'install the sort of thing Bond villains use to secure their secret vaults'?''
Each of those gadgets, BTW, costs $720.
I take it this is all part of the "toilet revolution" announced by the nation in 2015, an ambitious plan to improve both the facilities—long the butt of tourists' jokes (ahem!)—and the etiquette of their patrons. This revolution also includes punishment for poor lavatory decorum—one can be blacklisted from relieving oneself at certain locations.
All that to say: Watch out! One of these days, like our microwaves, the potty is gonna be spying on us.
But, be that as it may, I want to remind us all that the eyes of God are upon us all, no matter where you might be, what you might be doing.
The eyes of the LORD are in every place, Watching the evil and the good.
Proverbs 15:3
No concealment!
"Can a man hide himself in hiding places So I do not see him?'' declares the LORD.
"Do I not fill the heavens and the earth?'' declares the LORD.
Jeremiah 23:24
He sees. He knows. Each one of us.
O LORD, You have searched me and known me.
You know when I sit down and when I rise up; You understand my thought from afar.
You scrutinize my path and my lying down, And are intimately acquainted with all my ways.
Psalm 139:1–3
There's no getting away from before his sight!
Where can I go from Your Spirit? Or where can I flee from Your presence?
If I ascend to heaven, You are there; If I make my bed in Sheol, behold, You are there.
If I take the wings of the dawn, If I dwell in the remotest part of the sea,
Even there Your hand will lead me, And Your right hand will lay hold of me.
Psalm 139:7–10