aBeLOG: fortnightly thoughts on homiletics
|
More →
RaMbLeS: weekly musings on life and Scripture
|
More →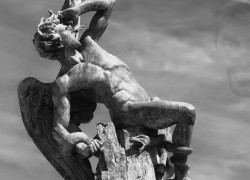 The Fuente del Ángel Caído (Fountain of the Fallen Angel) stands in a section of Retiro Park in Madrid. It is a monument to … Satan! In a Catholic country!
Created by Ricardo Bellver in 1873, it was bought by Spain and installed in Retiro Park. The pedestal of the statue was designed by Francisco Jareño, who created an octagonal structure with devils on every side chomping vermin and spouting water at the same time. The whole structure, about 20 feet high, is in the center of a fountain about 30 feet in diameter. The statue itself is about 9 feet tall. The roundabout where the statue is located in the 350-acre park is named after the statue and so is the adjoining entrance to the Parque del Buen Retiro ("Park of the Pleasant Retreat"). Why a pleasant retreat needs a statue of Satan is beyond me.
Oh, and the statue apparently stands exactly at 666 meters above sea level.
Apparently, Bellver was inspired by Milton's verses that talk of Satan.
Th' infernal Serpent; he it was, whose guile
Stird up with Envy and Revenge, deceiv'd
The Mother of Mankind, what time [i.e., "when"] his Pride
Had cast him out from Heav'n, with all his Host
Of Rebel Angels, by whose aid aspiring
To set himself in Glory above his Peers,
He trusted to have equal'd the most High.
John Milton (1608–1674), Paradise Lost
Milton, in turn, was inspired by Scripture.
"You had the seal of perfection, Full of wisdom and perfect in beauty.
You were in Eden, the garden of God ….
You were the anointed cherub who covers, And I placed you there.
You were on the holy mountain of God …."
Ezekiel 14:12–14
Satan was the angel in charge of guarding God's holiness, a perfect being by all counts. Until his pride took over.
"How you have fallen from heaven, O star of the morning, son of the dawn!
You have been cut down to the earth, You who have weakened the nations!
But you said in your heart,
'I will ascend to heaven;
I will raise my throne above the stars of God,
And I will sit on the mount of assembly In the recesses of the north.
I will ascend above the heights of the clouds;
I will make myself like the Most High.'"
Isaiah 14:12–14
Notice the five "I wills" of Satan. He wanted to secure the abode of God ("heaven"); to obtain the rule of God ("throne"); to usurp the kingdom of God ("mount of assembly"); to receive the glory of God ("cloud"); and to gain the status of God, that is, to be God ("Most High").
And so he was ejected.
"You were blameless in your ways From the day you were created
Until unrighteousness was found in you …. And you sinned.
Therefore I have cast you as profane from the mountain of God. …
Your heart was lifted up because of your beauty;
You corrupted your wisdom by reason of your splendor.
I cast you to the ground."
Ezekiel 28:15–17
This fallen angel is forever anti-God and therefore forever anti-God's people.
So we are warned:
Put on the full armor of God, so that you will be able to stand firm.
For our struggle is not against flesh and blood, but against the rulers,
against the powers, against the world forces of this darkness,
against the spiritual forces of wickedness in the heavenlies.
against the schemes of the devil.
Ephesians 6:11–12
We need God's help … and it is available!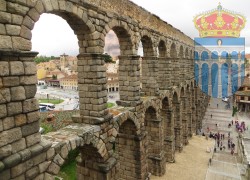 Segovia is an ancient city, lying about 60 miles Northeast of Madrid. A great place to wander around and take in a fantastic 10th-century castle (the Alcazar of Segovia) and a grand 15th century Gothic cathedral.
But also fascinating is the Aqueduct of Segovia, a defining feature of the city, that shows up on Segovia's coat of arms.
It is perhaps the most important Roman civil engineering work in the Iberian peninsula—in fact, one of the best-preserved monuments in Spain. It was likely built under Emperor Domitian (ruled 81–96 CE).
Some portions were destroyed by the Moors in the 11th century, but was rebuilt in the 15th century by King Ferdinand and Queen Isabella (Columbus's contemporaries).
Fascinating edifice. 25,000 granite blocks held together with no mortar. 170 arches. To carry water from the Fuente Fría river some 10 miles to the city, via a couple of sedimentation tanks along the way. At its highest, it is about 94 feet tall, with 20 feet of foundation.
And it continued to carry water until the mid-19th century! Bringing water for 2,000 years!
It is now one of UNESCO's World Heritage Site.
Water has always been an important symbol in Christianity.
It was there at creation.
The earth was formless and void,
and darkness was over the surface of the deep,
and the Spirit of God was moving over the surface of the waters.
Genesis 1:2
It was there in the Garden of Eden along with the tree of life.
Now a river flowed out of Eden to water the garden.
Genesis 2:10
And it will be there in the eternal city, the New Jerusalem, also with the tree of life.
Then he showed me a river of the water of life, clear as crystal,
coming from the throne of God and of the Lamb ….
On either side of the river was the tree of life.
Revelation 22:1–2
Jesus called himself the living water that quenches every thirst and every need.
"Whoever drinks of the water that I will give him shall never thirst;
but the water that I will give him will become in him a well of water springing up to eternal life."
John 4:14
All of You is more than enough for all of me;
For every thirst and every need
You satisfy me with Your love;
And all I have in You is more than enough.
Chris Tomlin/Louie Giglio (2002)
Jesus seems to have been equating himself with God here. In the Old Testament, God had likewise designated himself as …
… the fountain of living water, even Yahweh.
Jeremiah 17:13
And here is Jesus again:
Jesus stood and cried out, saying,
"If anyone is thirsty, let him come to Me and drink."
John 7:37
Again, he is echoing an Old Testament concept—God as the the source of cleansing and quenching waters.
"Ho! Every one who thirsts, come to the waters."
Isaiah 55:1
And so we cry with the psalmist:
As the deer pants for the water brooks,
So my soul pants for You, O God.
Psalm 42:1
In a dry and weary world, filled with false waters that promise much and deliver nothing, only God will suffice. He is enough!
O God, You are my God; I shall seek You earnestly;
My soul thirsts for You, my flesh yearns for You,
In a dry and weary land where there is no water.
Psalm 63:1
More than all I want,
More than all I need,
You are more than enough for me;
More than all I know,
More than all I can say,
You are more than enough for me!
Wrote Ogden Nash (1902–1971), the American poet, thus,
In a poem that he titled "Columbus":
Once upon a time there was an Italian,
And some people thought he was a rapscallion,
But he wasn't offended,
Because other people thought he was splendid,
And he said the world was round,
And everybody made an uncomplimentary sound.
…
So Columbus said, Somebody show me the sunset and somebody did and he set sail for it,
And he discovered America and they put him in jail for it,
And the fetters gave him welts,
And they named America after somebody else.
Yup, he, Cristóbal Colón, aka Christopher Columbus (1450–1506), set sail for the sunset, but his statue in Madrid, in the Plaza de Colón, for some reason, faces east. Maybe because the sea is closer to Madrid in that direction.
In an earlier day, it was thought that Mr. C was the first one to proclaim the roundness of the earth, thus explaining his plan to reach the Indies by sailing westward. He wasn't. Even the Christian monk, Bede the Venerable, seems to have held such ideas as early as 723 CE, in his Reckoning of Time. But did make some mistakes. He thought Japan was about 2,500 miles away westwards, when in reality it was more like 12,000. Anyhow, these errors enabled him to set out bravely towards the setting sun and hit another unknown continent.
And Señor Colon he wasn't the first European to reach the Americas either. The Norwegian Leif Ericson probably was the first, hitting Newfoundland in the 1000s, some 500 years before CC. Nevertheless, it was Columbus' trips that led to lasting contact between Europe and America and fostered several centuries of exploration and colonization that have had a lasting impact to this day.
So, in his case, I suppose it paid off to be heading the wrong way, not normally an advisable option.
There was another guy way before Chr. Col. who set out not know where to go.
By faith Abraham, when he was called,
obeyed by going out to a place
which he was to receive for an inheritance;
and he went out, not knowing where he was going.
Hebrews 11:8
But he was following a divine call. And he chose to trust in the divine word.
Now the LORD said to Abram,
"Go forth from your country, And from your relatives,
And from your father's house, To the land which I will show you."
Genesis 12:1
God promises him all kinds of things. But the funny thing is Abraham is not recorded as having uttered a word in reply. We are simply told:
So Abram went forth as the LORD had spoken to him.
Genesis 12:4
No spring chicken at 75 years, the man goes forth, family and all. Faith!
By faith he lived as an alien in the land of promise,
as in a foreign land, dwelling in tents with Isaac and Jacob,
fellow heirs of the same promise;
for he was looking for the city which has foundations,
whose architect and builder is God.
Hebrews 11:9–10
Heading for the Promised Land. For the Holy City of God.
And I saw the holy city, new Jerusalem,
coming down out of heaven from God ….
"Behold, the tabernacle of God is among men, and He will dwell among them,
and they shall be His people, and God Himself will be among them,
and He will wipe away every tear from their eyes;
and there will no longer be any death;
there will no longer be any mourning,
or crying, or pain."
Revelation 21:2–4
Soon and very soon. Hang in there!