RaMbLeS: weekly musings on life and Scripture
|
More →
Josef Levkovich was a teenage slave laborer in the a Nazi concentration camp.
I was working at the Plaszow concentration camp, dismantling the remnants of a Jewish cemetery. The cemetery's wrought iron fence—all 150 tons—was needed to make weapons for the Nazi slaughter of millions across Europe."
Josef was high atop the fence, removing some bricks, when Austrian SS chief Amon Goth rode up on his horse.
Up on the fence, my job was to carefully remove each brick, then… Read more →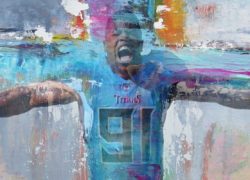 What's it about old guys and football?
There's forty-something Tom Brady and Adam Vinatieri. And those getting close to the fifth decade of life: Eli Manning, Philip Rivers, and Terrell Suggs. They're still playing! (Or they were, the last time I watched football which, admittedly, was a while ago.)
But it's fascinating. In a sport that is extremely physical and fraught with danger even for those with good reflexes, the fact these old geezers (!) are still around… Read more →
Earlier this year, a Mumbai businessman, Raphael Samuel, 27, declared that it was wrong to bring children into the world.
Said that worthy:
It wasn't our decision to be born!"
Well, guess what he did? He sued his parents!
That's enough to cause major trouble within any family. Samuel, however, confesses, he gets along well with his parents. (BTW, both his parents are lawyers.)
Said mother, Kavita Samuel:
I must admire my son's temerity to want to take his parents… Read more →
aBeLOG: occasional thoughts on homiletics
|
More →
Speaking Schedule
|
More
Upcoming Speaking Engagements
March 10–11, 2020

Mullins Lectures, Southern Baptist Theological Seminary, Louisville, Kentucky

April 1–2, 2020

Craddock Lectures in Preaching, Johnson University, Knoxville, Tennessee

July 2020

Dallas Theological Seminary Doctor of Ministry Course, São Paulo, Brazil

July 19, 2020

Northwest Bible Church, Dallas, Texas

July 20, 2020

Dallas Theological Seminary Preaching Refresher, Burke Community Church, Burke, Virginia

July 26, August 2 and 9, 2020

Northwest Bible Church, Dallas, Texas

November 2020

Guest Lectureship, Singapore Bible College, Singapore

November 2020

Seminars in Preaching, SAGOS and Yan Fook Seminary, Hong Kong, China

April 8−10, 2021

Preaching Summit, Dallas Theological Seminary, Dallas, Texas
Past Speaking Engagements
November 21, 2019

Evangelical Theological Society Annual Meeting, San Diego, California

September 24, 2019

Chafer Chapel, Dallas Theological Seminary, Dallas, Texas

August 11 and 18, 2019

Stonebriar Community Church, Frisco, Texas

July 28, 2019

Cityview Bible Church, Round Rock, Texas

July 14 and 21, 2019

Dallas Bible Church, Dallas, Texas

July 8, 9, and 11, 2019

E. K. Bailey Expository Preaching Conference, Dallas, Texas

June 30, 2019

Dallas Bible Church, Dallas, Texas

June 23, 2019

Northwest Bible Church, Dallas, Texas

June 17, 2019

Dallas Theological Seminary Preaching Refresher, The Compass Church, Wheaton, Illinois

June 9, 2019

Northwest Bible Church, Dallas, Texas

May 5, 2019

Northwest Bible Church, Dallas, Texas

March 31, 2019

Northwest Bible Church, Dallas, Texas

February 19−21, 2019

William E. Conger Lectures on Biblical Preaching, Beeson Divinity School, Birmingham, Alabama

January 27, 2019

Abilene Baptist Church, Martinez, Georgia

January 7–9, 2019

Guest Lectureship, Evangelical Theological College, Bengaluru, India