RaMbLeS
Welcome to RaMbLeS, a collection of weekly musings on life and Scripture. It all began in 2005 on Google's blogspot as the aBeLOG (a name now recycled), a semi-autobiographical devotional that attempted to keep well-wishers abreast of my activities as I relocated to Scotland for a few years. Since my return, I've continued my RaMbLeS, and here's its most recent incarnation on HOMILETIX.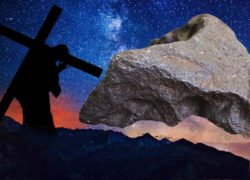 Recently a Grand Rapids, MI, man, David Mazurek, saw on the news that meteorite hunters were finding shards and selling them for thousands of dollars after a meteor shower this January in the Detroit area.
That made the guy curious about a nondescript rock that he'd been using as a door stop in his farm.
Said Mr. Mazurek:
Wait a minute. I wonder what this rock is. Maybe it's worth something."
It was.
That 22.5-pound rock was recently identified by Department of Earth… Read more →