RaMbLeS
Welcome to RaMbLeS, a collection of weekly musings on life and Scripture. It all began in 2005 on Google's blogspot as the aBeLOG (a name now recycled), a semi-autobiographical devotional that attempted to keep well-wishers abreast of my activities as I relocated to Scotland for a few years. Since my return, I've continued my RaMbLeS, and here's its most recent incarnation on HOMILETIX.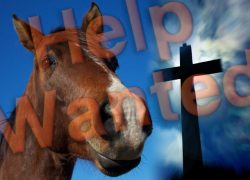 Dogs are clever (OK, maybe cats, too). Parrots are smart. Even pigeons are pretty astute. Of course, there are the primates and elephants and dolphins and such. Not to mention goldfish and other co-denizens of ours on this earth that can perform some amazing feats.
But horses?
Japanese cognitive scientists Monamie Ringhofer and Shinya Yamamoto from Kobe University decided to take a look. And they found something pretty impressive.
They tested eight thoroughbred equines in