RaMbLeS
Welcome to RaMbLeS, a collection of weekly musings on life and Scripture. It all began in 2005 on Google's blogspot as the aBeLOG (a name now recycled), a semi-autobiographical devotional that attempted to keep well-wishers abreast of my activities as I relocated to Scotland for a few years. Since my return, I've continued my RaMbLeS, and here's its most recent incarnation on HOMILETIX.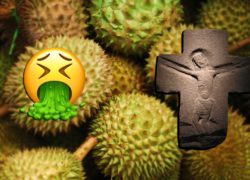 Jakarta-bound Sriwijaya Air flight was delayed the other day at Bengkulu in Sumatra, Indonesia.
The reason? Passenger complaints about an overpowering stench.
The culprit: Two tons of the thorny fruit called durian in the cargo hold.
Durian is common in Southeast Asia and distinguished by its strong stink that evokes, usually, disgust. Raw sewage is what it smells like, resulting in it being banished from most hotels and public transportation in that part of the continent.
Comments… Read more →