RaMbLeS
Welcome to RaMbLeS, a collection of weekly musings on life and Scripture. It all began in 2005 on Google's blogspot as the aBeLOG (a name now recycled), a semi-autobiographical devotional that attempted to keep well-wishers abreast of my activities as I relocated to Scotland for a few years. Since my return, I've continued my RaMbLeS, and here's its most recent incarnation on HOMILETIX.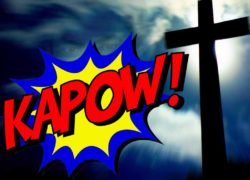 Superheroes wield special powers to protect us from villainous knaves. And these characters idolized by young viewers send a strong message about good and evil.
But there's a downside to this protection racket.
In "Violence Depicted in Superhero-Based Films Stratified by Protagonist/Antagonist and Gender," a paper presented at this year's American Academy of Pediatrics National Conference in Orlando, researchers find that, on average, the "good guys" are engaging… Read more →