RaMbLeS
Welcome to RaMbLeS, a collection of weekly musings on life and Scripture. It all began in 2005 on Google's blogspot as the aBeLOG (a name now recycled), a semi-autobiographical devotional that attempted to keep well-wishers abreast of my activities as I relocated to Scotland for a few years. Since my return, I've continued my RaMbLeS, and here's its most recent incarnation on HOMILETIX.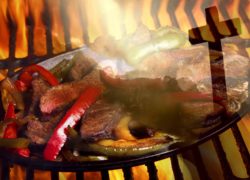 If you had been detained in the Cameron County (TX) Juvenile Justice Department between 2008 and this year, you might have wondered why you weren't served fajitas. Well, the answer is simple: the facility's cafeteria doesn't serve that delectable item.
But guess what? Since 2008, aforementioned Juvenile Justice Department has been paying for fajita deliveries.
It was only in August 2017 that the matter was cleared up. Apparently, the Labatt Food Service tried to deliver… Read more →