RaMbLeS
Welcome to RaMbLeS, a collection of weekly musings on life and Scripture. It all began in 2005 on Google's blogspot as the aBeLOG (a name now recycled), a semi-autobiographical devotional that attempted to keep well-wishers abreast of my activities as I relocated to Scotland for a few years. Since my return, I've continued my RaMbLeS, and here's its most recent incarnation on HOMILETIX.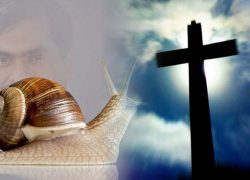 All kinds of stuff is applied to one's face these days. In an attempt to make oneself beautiful.
Even snail slime. Yup, you read that right. Snail slime. As long as you can overcome the "ickiness" of it, you, too, ostensibly, can look beautiful.
This is part of a whole category of K-beauty products. (The "K" standing for "Korean.")
Sarah Chung, head of Landing International Inc., that partners with Ulta's Korean collection said:
People used to talk about French… Read more →