Aid?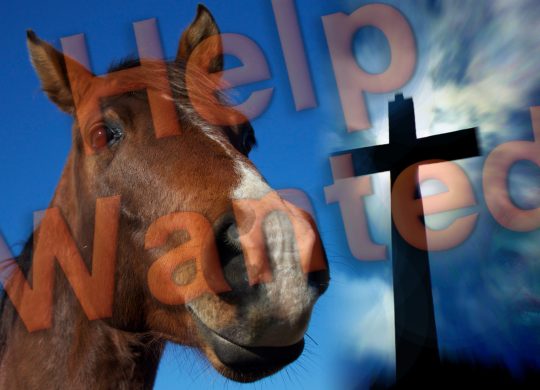 Dogs are clever (OK, maybe cats, too). Parrots are smart. Even pigeons are pretty astute. Of course, there are the primates and elephants and dolphins and such. Not to mention goldfish and other co-denizens of ours on this earth that can perform some amazing feats.
But horses?
Japanese cognitive scientists Monamie Ringhofer and Shinya Yamamoto from Kobe University decided to take a look. And they found something pretty impressive.
They tested eight thoroughbred equines in the paddock of Kobe University's equestrian club. The horses saw a research assistant put a carrot in a food bucket, but that container wasn't accessible to the animals, only to their human caretaker.
In one scenario, the human caretaker was seen by the horses to have observed the introduction of said red root into said bucket. In another, the human caretaker did not watch the event.
With the "ignorant" caretaker, the horses nudged, and touched, and pushed this guy towards the bucket, as if to get them to realize where the food was hidden. Not so with the "knowledgeable" caretaker. It seemed the horses expected him to know where the carrot was (and retrieve it for them). Remarkable!
Said Ringhofer and Yamamoto, in "Domestic Horses Send Signals to Humans When They Are Faced with an Unsolvable Task" (published in Animal Cognition):
This study is the first to show that horses possess some cognitive basis for this ability of understanding others' knowledge state in social communication with humans."
Noted one commentator:
It's an important result … because it points not only to advanced cognition but also to flexible cognition, with the horses adjusting their communicative behavior to the humans' knowledge state."
BTW, dogs didn't do what horses did—increased tactile prodding of their caretakers. Instead, the canines simply looked back and forth between the location of the hidden food and the uninformed caretaker.
(Perhaps that was their way of drawing their caretaker's attention to something.)
Wendy Williams, author of The Horse: The Epic History of Our Noble Companion, observed:
This break-through study has been a long time coming. For most of the history of horse domestication, we've assumed that communications between humans and horses was unidirectional. Humans order. Horses obey. But in this study, we see that communication could be a two-way street. Horses do try to communicate with humans. Horses are highly social animals. In a natural state, they depend on each other for information that provides for the survival of the whole band. If a predator, for example, appears on the horizon, one horse immediately alerts the others through a wide variety of signals. Snorting, pricked ears and stamping are only a few of these signals. There's no reason why they wouldn't try to communicate with humans as well."
Amazing!
Ringhofer, later, added:
Most horses used visual and tactile signals to request the [attention of the] caretakers. However, two horses seemed to use extra behavior. They stood near the caretaker and located their face in front of the caretaker (very close to the caretaker's face). Then, both of them finally hit the caretaker's face with their face."
Astonishing! Horses know to ask for help!
We ought to, too.
But You, O LORD, be not far off;
O You my help, hasten to my assistance.
Psalm 22:19
God is our refuge and strength,
A very present help in trouble.
Psalm 46:1
For You have been my help,
And in the shadow of Your wings I sing for joy
Psalm 63:7
So, be equine, and …
"Ask, and it will be given to you;
seek, and you will find;
knock, and it will be opened to you."
Matthew 7:7