Aroma!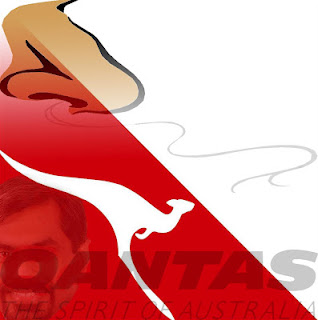 Bird strikes? OK. Engine problems? Of course. Security threat? Absolutely! I'd gladly be delayed and/or have to return to the airport rather than fly with these potentially dangerous problems. There have been a few odd reasons for delays other than the above and acts of God and inclement weather and the like.
A few weeks ago, a cat got loose in the cockpit; Ripples, the offending feline forced passengers to deplane—a 4-hour delay. Or take the case of a two-hour  delay because of a frozen toilet. Another time, aflight attendant knocked out cold when a carry-on fell out of the overhead bin. Several hours lost.
But the reason that kept Qantas flight 825 from the skies the other day was none of these.
En route from Darwin to Brisbane, Australia, a poopy diaper was the culprit.
Yup, a diaper. A dirty "bomb" of sorts.
It all began with …. Well, we know how it began. Soon passengers complained of a strange odor. Apparently, in such odd-odor situations, Qantas procedures call for an immediate landing. So it did. At Mt. Isa (pop. 18,000), midway between Darwin and Brisbane.
The diaper drama was quickly solved by removing the offensive item from the for'ard toilet. But getting the passengers off the plane didn't turn out to be that easy.
You see, Mt. Isa airport is not set up to handle the large aircraft (Boeing 767) that was Qantas 825. So after landing, the 161 passengers had to be taken off the aircraft by—get this!—a forklift. Five at a time. It took two hours, just to deplane.
A statement from Qantas:  "Very embarrassing for us all at [Qantas], but, better safe than sorry." Better safe than stinky. Yes, it was the butt of many jokes. (Ahem!)
(An even more notorious incident occurred in 2010 when an Air Canada Jazz flight was delayed; a passenger had to be removed because his body odor was so "brutal.")
Ooh, that smell
Can't you smell that smell?
Ooh, that smell
The smell of death surrounds you
Lynyrd Skynyrd, That Smell, 1977
At any rate, this smelly business matters. After all—and apparently this was the crew's concern—it could have been leaking sewage that could have threatened the plane's sophisticated electronics.
We've been hardwired to run from dirty smells. Bad smells = danger.
A sinful life smells awful to God.
For my sins overwhelm me;
As a heavy burden they weigh too much for me.
My wounds stink, festering,
Because of my folly.
Psalm 38:4–5
Indeed!
A righteous man hates falsehood,
But a wicked man acts in stinking disgrace.
Proverbs 13:5
Our worship of anything but God is abominable to him.
… they have forsaken Me
and have burned incense to other gods
that they might provoke Me to anger
with all the work of their hands,
2 Kings 22:17
On the other hand, a life modeled in Christ is a sweet aroma.
Therefore be imitators of God,
as beloved children;
and walk in love,
just as Christ also loved you
and gave Himself up for us,
an offering and a sacrifice to God
as a fragrant aroma.
Ephesians 5:1–2
May the aroma spread!
But thanks be to God,
who … manifests through us
the sweet aroma of the knowledge of Him
in every place.
For we are a fragrance of Christ to God
among those who are being saved.
2 Corinthians 2:14–15
Even the prayers of his people are as incense to God.
… golden bowls full of incense,
which are the prayers of the saints.
Revelation 5:8
Be a perfume to God!